Talisman Energy Inc. (NYSE:TLM) is in the midst of a strategic review. While observers have suggested that the oil and gas company should undergo a restructuring either through a major acquisition or divestment, a split-up, or even an outright sale, one analyst thinks this is unlikely.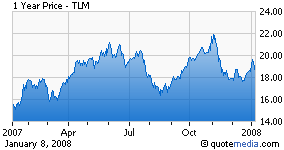 Gordon Gee at RBC Capital Markets met with Talisman's new CEO, John Manzoni, recently and noted that the strategy he is pursuing may be neutral to negative for the shares in the near term, but potentially positive longer-term.
In a note, Mr. Gee told clients:
Historically, TLM grew and was able to create value through a strategy of acquire and exploit. It is less clear that such a strategy will be as effective going forward.
The analyst also expects that Talisman's 2008 production guidance, due in mid-January, could come in lower than he expected, and below consensus. This is a result of project delays, particularly in the U.K., that were set for 2007, Mr. Gee said. Reserves that would have been booked in 2007 are expected to be recognized this year, which could lead to higher finding and development costs, he added.
He rates Talisman shares "sector perform" with a C$21.50 price target.