Goldcorp Inc. (NYSE:GG) shares were up around 3% through early afternoon trading on Tuesday, after the company announced that its gold production in the fourth quarter of 2007 was a record 633,000 ounces and overall 2007 production increased 35% to 2.29 million ounces.
With gold prices hitting another record high on Tuesday, investors appeared unfazed by the fact that Goldcorp Inc.'s cash costs for the year will come in a bit higher than the $150 per ounce previously estimated, and also the news that 2008 production, while still expected to increase 14%, was revised downward from 2.75 million ounces previously to 2.6 million ounces. Total cash costs for 2008 are also expected to rise by almost 13% from the previous estimate of $170 per ounce, to $250 per ounce.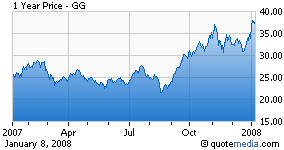 Credit Suisse analyst Anita Soni said Goldcorp is well-positioned to benefit from rising gold prices, and told clients it remains an attractive alternative to traditional senior gold producers.
"Goldcorp has an attractive production growth profile, low cost production at total by-product cash costs of $200-$250/oz, and is focused on stable mining jurisdictions (80% NAFTA)," she said in a note to clients.
She maintained her "outperform" rating, and C$37 price target for the shares.