With shares of Alpha Natural Resources (ANR) near all-time lows and down about 75% over the past year, it might be tempting to jump in here. However, with the challenges facing the coal market and no dividend, I don't believe now is the time to go all in. That said, I believe eventually higher natural gas prices will allow coal prices to increase, and improvements in the global economy will drive increases in met (metallurgical) coal prices. When this happens, I believe Alpha will be the best name to be invested in. Alpha's large capacity to export coal will allow it to capitalize on increases in coal demand from Asia. I also believe the Massey acquisition that Alpha overpaid for is behind the company at this point.
The company has an even mix between Eastern steam and met coal, and about 10% of 2011 revenues came from Powder River Basin coal. This mix was unchanged in Q1 of 2012. The weak exposure to Powder River Basin coal and the acquisition of Massey are the two weakest points of this company. The unusually warm winter in the U.S. has created large coal inventories at power plants across the country, over 200 million tons. Furthermore, low natural gas prices have lead to a shift from coal to natural gas in all parts of the U.S. Alpha stated on last quarter's call that it believes market weakness will persist into 2013.
The company continues to talk about its strong liquidity position. While it has one of the stronger financial positions of the coal stocks, I think this illustrates management's concerns about near-term prospects of a recovery in coal demand.
With the stock trading below $12 a share, near 10% of the float sold short, and pricing 23% under the 50-DMA, I think the short trade on Alpha is about over. The stock is now down to all-time lows, and I would consider starting to create a position in this stock in the upcoming weeks and months. Not every winter will be as warm as this past one in the U.S., and if the global economy is going to grow, steel will be an important part of that growth.
Click to enlarge image.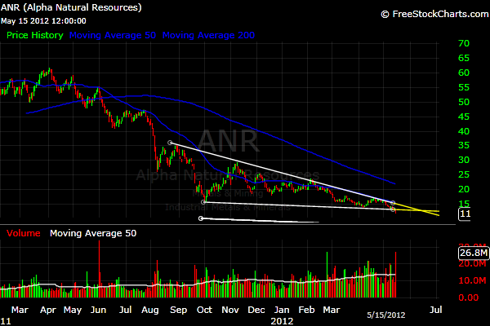 Source: Freestockcharts.com.

When looking at the chart of this company, I believe it has been consolidating since last fall. The almost 10% move down on May 15 might be a break lower that could start Alpha's next leg down. Also, every time the stock looked like it was trying to find support, it failed and moved lower. You can see where it tried to bottom near the $18 to $19 range, then again near $15 and more recently near $13. I think you could see lower prices, although I am not sure how much lower. It currently sits about 5.8 times EV/EBITDA and is trading at only a fraction of book value.
There has also been a rumor circling for some time about Warren Buffett being interested in coal companies. While that may just be a rumor, I believe someone making a bet on the global economy and increases in coal demand could consider taking a stake in Alpha. As companies, including Alpha, continue to close mines, a quick increase in demand could quickly use existing inventories and create an environment of at least short-term increases in coal prices. In summary, I think you need to use caution and patience when looking to move into Alpha or any coal miner.
Data sourced from Finviz.com, Morningstar Direct, and Bloomberg.
Disclosure: I have no positions in any stocks mentioned, and no plans to initiate any positions within the next 72 hours.