Pepsico (NYSE:PEP) has been on a tear lately but for the year still lags its peers by a very large margin. Pepsico intends to remedy its image with something for everyone: A major increase in advertising, and increases in dividends and stock buy backs. During the last month the market has taken notice as this hourly trading graph provided by Barchart shows: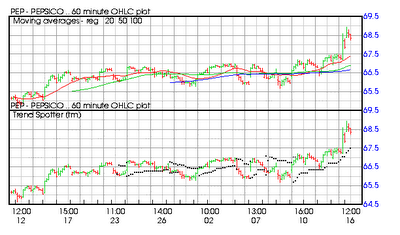 During the last 50 trading sessions the stock has even outperformed the market. While the market was down by about 2% the stock was up 10%: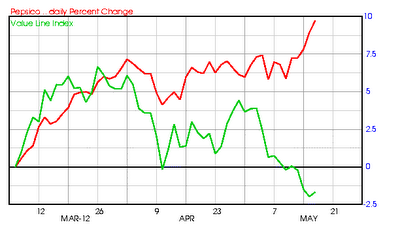 PepsiCo, Inc. engages in the manufacture and sale of snacks, carbonated and non-carbonated beverages, dairy products and other foods worldwide. It operates in four divisions: PepsiCo Americas Foods (NYSEARCA:PAF); PepsiCo Americas Beverages (PAB); PepsiCo Europe; and PepsiCo Asia, Middle East, and Africa (AMEA).
The PAF division offers Lay's and Ruffles potato chips, Doritos and Tostitos tortilla chips, Cheetos cheese flavored snacks, branded dips, Fritos corn chips, SunChips multigrain snacks, and Santitas tortilla chips in North America; Quaker oatmeal, Aunt Jemima mixes and syrups, Quaker Chewy granola bars, and Quaker grits, Cap'n Crunch cereal, Life cereal, Rice-A-Roni side dishes, Quaker rice cakes, Pasta Roni, and Near East side dishes in North America; and snack foods under Marias Gamesa, Doritos, Cheetos, Ruffles, Saladitas, Emperador, Tostitos, and Sabritas, as well as Quaker-brand cereals and snacks in Latin America.
The PAB division manufactures beverage concentrates, fountain syrups, and finished goods under Pepsi, Gatorade, Mountain Dew, Diet Pepsi, Aquafina, 7UP, Diet Mountain Dew, Tropicana Pure Premium, Sierra Mist, and Mirinda brands; ready-to-drink tea, coffee, and water products; and concentrate and finished goods, as well as brands licensed from Dr Pepper Snapple Group, Inc. The PepsiCo Europe division offers snacks under Lay's, Walkers, Doritos, Chudo, Cheetos, and Ruffles brands, as well as Quaker-brand cereals and snacks; and beverage concentrates, fountain syrups, and finished goods under Pepsi, Pepsi Max, 7UP, Diet Pepsi, and Tropicana brands, as well as ready-to-drink tea products in Europe.
The AMEA division provides snack food under the Lay's, Kurkure, Chipsy, Doritos, Smith's, and Cheetos brands; Quaker-brand cereals and snacks; and beverage concentrates, fountain syrups, and finished goods under the Pepsi, Mirinda, 7UP, Mountain Dew, Aquafina, and Tropicana brands. The company was founded in 1898 and is headquartered in Purchase, New York. (Yahoo Finance profile)
Factors to consider:
Barchart technical indicators:
100% Barchart technical buy signal
Trend Spotter buy signal
Above its 20, 50 and 100 day moving averages
11 new highs and up 3.68% in the past month
Relative Strength Index 67.88%
Barchart computes a technical support level at 66.10
Recently traded at 68.43 with a 50 day moving average of 65.78
Fundamental factors:
Pepsico has always been on Wall Street's watch list where 13 brokerage firms have assigned 18 analysts to monitor the numbers
Analysts predict revenue will increase by 2.40% this year and another 4.50% next year
Earnings estimates are a decrease of 6.60% this year, an increase of 8.00% next year and an annual increase of 4.86% over the next five years
These consensus estimates resulted in analysts issuing three strong buy, seven buy, seven hold, single under perform and no sell recommendations
Brokerage analysts feel if the numbers are met investors could see an annual total return in the 14% - 16% range over the next five years
The 15.40 P/E ratio is just about the same as the 15.30 P/E ratio of the market
The 3.07% dividend rate is less than 50% of earnings estimates and above the market's dividend rate of 2.30%
The company has an A++ financial strength rating
Target markets of China and Brasil look promising
Increases advertising should improve sales
Increases in dividends and stock buy backs should increase the P/E ratio
Positive comments by Jim Cramer, Tobin Smith, Barclays, UBS and Deutsche Securities should increase interest in this issue
General investor interest:
Followed on Wall Street and followed by the readers of Motley Fool where 4,518 readers have offered an opinion on the stock
Of those voting 97% think the stock will beat the market
The more experienced and savvy All Stars voted 98% for the same result
Over the past year the market has favored Pepsico's peers. While Pepsico was down 4% over that period, Diageo (NYSE:DEO) was up 19%, Anheuser Busch Inbev (NYSE:BUD) was up 14% and Coca-Cola (NYSE:KO) was up 12%: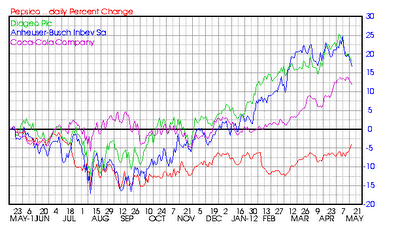 Summary: If you own Pepsico I'd hold it and if it's in your IRA place it on a dividend reinvestment program. I think the increases in advertising will help revenue and the projected dividend increase coupled with a stock buy back program is a solid plan to increase stockholder value. Investors with new money should look at my standard advice: Always buy stocks with double digit projections of both sales and earnings. Pepsico is not one of those stocks. Holders should monitor the 100 day moving average or the lower 14 day turtle channel for exit points: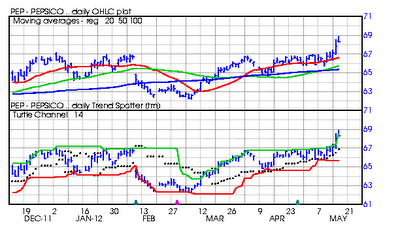 Disclosure: I have no positions in any stocks mentioned, but may initiate a long position in DEO, BUD over the next 72 hours.