In simpler times, investors could count on risk measures to measure risk. But, in stepped the ECB with its LTRO versions one, in December, and two, in February. These funding operations made measures such as the LIBOR OIS far less useful as a proxy for equity risk than they were even as recently as last fall.
Especially, when we consider the potential for QE"3" and LTRO"3". Banks just aren't as worried about funding each other compared to last fall, when huge exposure to sovereign debt frightened markets.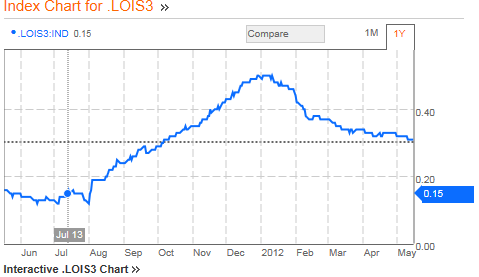 The issue isn't lost on the FOMC, which discussed it briefly in its minutes, released earlier today:
"Although the spread of the three-month euro London interbank offered rate over the comparable OIS rate narrowed on balance over the period, euro-area bank equity indexes dropped sharply, driven by declines in the share prices of Spanish and Italian banks. Five-year credit default swap premiums rose for a broad range of euro-area banks, especially Spanish banks."
They probably could've just written "although the LIBOR OIS spread didn't reflect it - things got much worse."
The ECB deposit facility is similarly distorted by LTRO funding. The following chart shows the dramatic increase this year following LTRO version 2.0.
Which in turn makes the following index chart for BANKCDS important - barring of course the influence of dislocation caused by CDS speculators hunting London Whales. The index includes big banks, such as Bank of America (NYSE:BAC) and Citigroup (NYSE:C).
(Click to enlarge)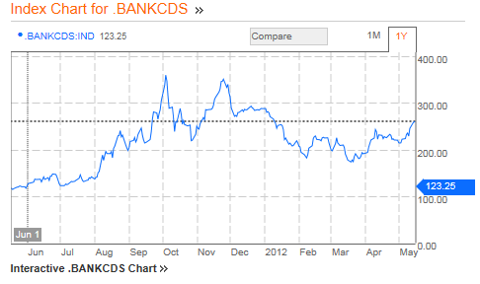 And, in case you were curious, here's the impact of JPMorgan's (NYSE:JPM) Dimon's mea culpa to date.
(Click to enlarge)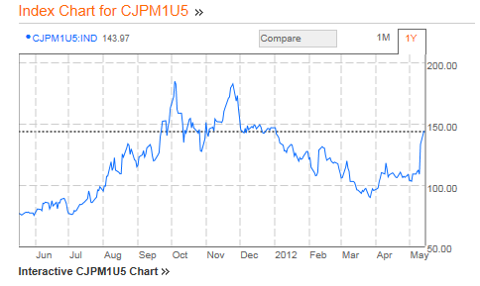 Given LIBOR OIS and deposit facilities risk measures are distorted, and CDS markets are being engineered in the wake of JPMorgan's debacle, SPX (NYSEARCA:SPY) investors are left wondering what risk metrics to track - which makes markets even more opaque than usual.
Disclosure: I have no positions in any stocks mentioned, and no plans to initiate any positions within the next 72 hours.