Company Profile
Suntech Power Holdings Co., Ltd., a solar energy company, engages in the design, development, manufacture, and marketing of photovoltaic (PV) products.
Suntech Power Holdings Co., Ltd. (NYSE:STP) is scheduled to report its first quarter earnings results on May 23, 2012, before market open.
Technical Overview
Click to enlarge.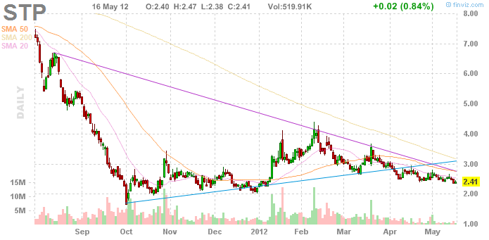 Suntech has a market cap of $432.97 million and it is currently trading around $2.41 with a 52 week range of $1.70 to $8.51. The stock has 9.05% price performance for the year 2012. The following table provides the key financial ratios for Suntech:
| | |
| --- | --- |
| Key Ratio | Value |
| Current Ratio | 0.81 |
| Profit Margin | -28.30% |
| Return On Assets (ROA) | -18.23% |
| Return On Equity (ROE) | -70.04% |
Recent News
On May 15, 2012, Suntech Power Holdings and Krannich Solar, a leading value added distributor of complete systems, components and pre-packaged systems, announced an agreement for Suntech to supply up to 120 megawatts of solar panels in 2012.

On April 12, 2012, Suntech Power Holdings supplied 3.4 megawatts (MW) of solar panels for a solar installation at Edwards Air Force Base in Southern California.

On April 10, 2012, Suntech Power Holdings announced that Jerry Stokes, President of Suntech Europe, has been elected to the European Photovoltaic Industry Association's (EPIA's) eight-member Board of Directors.

On April 19, 2012, Thomson Reuters/Verus downgraded Suntech Power Holdings from HOLD to SELL.

On March 20, 2012, Suntech Power Holdings provided the response to the U.S. Department of Commerce's preliminary decision to impose countervailing duties (NYSE:CVD) of 2.9% on Suntech's crystalline silicon photovoltaic cells imported from China.

On March 12, 2012, Suntech Power Holdings announced that its industry-leading Pluto cell technology set a world record 20.3% efficiency for a production cell using standard commercial-grade p-type silicon wafers.

On March 8, 2012, Suntech presents modules with improved efficiency at Ecobuild and shows solar energy is still a profitable investment despite projected FIT cuts.
Analyst Guidance and Earnings History
The first quarter revenues are expected to be $408.24 million when compared to $877.00 million for the same quarter last year. Earnings per share for the first quarter are expected to be loss of 50 cents a share, down from 17 cents a share in the year-ago period.
The average price target from analyst for Suntech is $2.21 with average rating is UNDERWEIGHT
Out of the last 4 quarters, Suntech has missed the EPS estimates all the 4 times by a huge margin. The following chart shows the Analyst estimates history and the actual EPS results.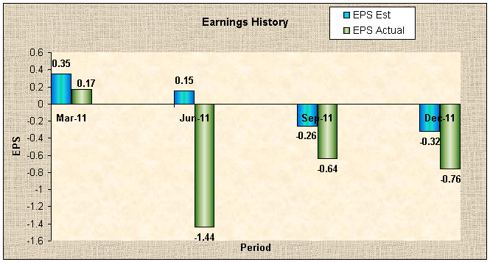 Sources: Some of the data is taken from Google Finance, Yahoo Finance, Finviz and investor sites.
Disclosure: I have no positions in any stocks mentioned, and no plans to initiate any positions within the next 72 hours.
Disclaimer: I am not a registered investment advisor and do not provide specific investment advice. The information contained herein is for informational purposes only. Nothing in this article should be taken as a solicitation to purchase or sell securities. Before buying or selling any stock you should do your own research and reach your own conclusion. It is up to investors to make the correct decision after necessary research.