Lennar Corp (NYSE:LEN) is a stock that is on fire, but the individual investor is not ready to give the stock its due. 1,201 readers of Motley Fool recently gave an opinion on the stock, but only 41% thought it would beat the market. In the last month the stock has been up almost 14% and is still on the rise as is illustrated in the hourly trading chart provided by Barchart: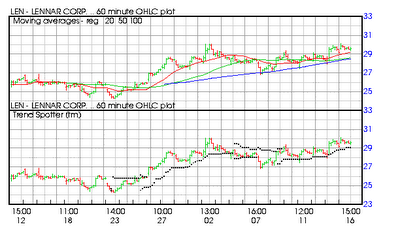 Over the past 9 months the stock is far out pacing the market as measured by the Value Line Index. While the Index was up 6% over that period, the stock is up almost 107%: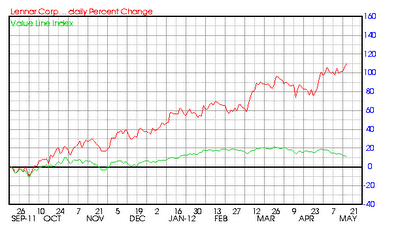 Lennar Corporation, together with its subsidiaries, engages in homebuilding, financial services, and real estate businesses in the United States. Its homebuilding operations include the construction and sale of single-family attached and detached homes; and the purchase, development, and sale of residential land. The company also provides primarily mortgage financing, title insurance, and closing services for the buyers of homes and others.
In addition, it invests in distressed real estate assets, as well as engages in sourcing, underwriting, pricing, and monetizing real estate and real estate related assets, and providing similar services to others in markets across the country. As of November 30, 2011, Lennar Corporation owned 94,684 homesites and had access through option contracts to an additional 16,702 homesites. Lennar Corporation was founded in 1954 and is based in Miami, Florida.
Factors to Consider
Barchart technical indicators:
96% Barchart technical buy signal
Trend Spotter buy signal
Above its 20, 50 and 100 day moving averages
6 new highs and up 14.35% in the last month
Relative Strength Index is 62.77%
Barchart computes a technical support level at 29.96
Recently traded at 29.50 with a 50 day moving average of 26.78
Fundamental factors:
Widely followed on Wall Street, where 20 brokerage firms have assigned 26 analysts to monitor the numbers
Analysts predict revenue will increase 20.70% this year and another 21.10% next year
Earnings estimates are even higher with an increase of 72.90% expected this year, an additional 67.50% next year, and expected to maintain an annual rate of increase of 28.75% over the next 5 years
These consensus numbers resulted in analysts issuing 3 strong buy, 9 buy, 13 hold and 1 under perform recommendation to clients
The P/E ratio of 67.55 is higher than the markets P/E of 15.30 but remember this is coming off some deficit years
The dividend rate of .56% is about 30% of present earnings and much lower than the market dividend rate of 2.30%
The company has a highly leveraged balance sheet and gets a B financial strength rating as a result
A lot of that leverage is from funding the Rialto Investment joint venture that is buying distressed properties at highly discounted prices in the hope of flipping at a profit as the housing market recovers
At the present time new orders and backlogs are increasing at double digit rates
Good reports are coming from FBR Capital Management, RBC Capital Markets, Barclays, and Credit Suisse. Positive comments were also made from George Soros and Pat Dorsey
General investor interest:
While institutional investors continue to accumulate shares, if you use the readers of Motley Fool to gauge individual investor sentiment the common man is not convinced
1,201 readers voted on this stock, and only 41% thought it would beat the market
Even the more experienced All Stars only voted 37% for the same result.
I like to look to the market as the final authority, and over the past year Lennar is up 69%, D.R. Horton (NYSE:DHI) is up 50%, Toll Brothers (NYSE:TOL) up 35% and PulteGroup (NYSE:PHM) up 27%. It looks like the market is high on the home builders: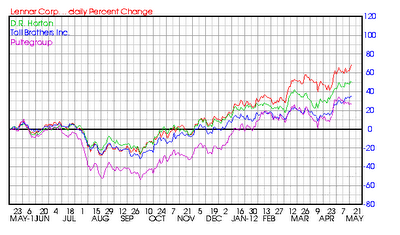 Summary
If you use price appreciation as a guide, the market thinks that Lennar is the stock to own even if the individual investor is yet to agree. Since this is an industry coming off several bad years, if you still want to wade in, please watch the 100 day moving averages and the lower 14 day turtle channel for signs of market weakness.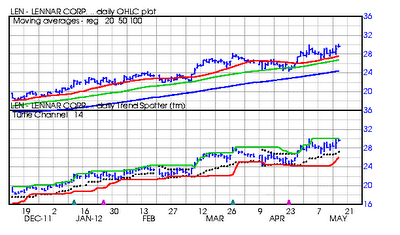 Disclosure: I have no positions in any stocks mentioned, and no plans to initiate any positions within the next 72 hours.