Shares of Red Robin Gourmet Burgers (NASDAQ:RRGB) were hit hard in after hours trading on Wednesday. The shares traded down 7% to $33.15 in the after hours session. The company beat analysts' predictions for earnings per share, but fell short on revenue for the quarter.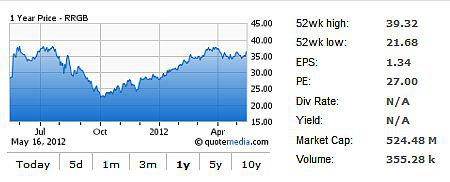 First quarter revenue came in at $299.5 million, which was an increase of 4% from the previous year. Earnings per share were reported as $0.71, which was a 22% increase from last year's $0.59. Net income for the quarter was $10.6 million, versus $8.7 million last year. The earnings per share beat was impressive considering guest counts were down 3.6% for the quarter. The average check price and increased number of locations led to the beat.
Red Robin keeps its streak of beating analysts' earnings per share predictions. Before Wednesday's released numbers, the company had beat the last four by 40%, 9%, 33%, and 142%, respectively (latest to earliest). Analysts are predicting $1.88 in 2012 and $2.18 in 2013.
In the first quarter, Red Robin opened three new company-owned restaurants and one Red Robin Burger Works fast casual location. At the end of the quarter, the large restaurant chain had 330 company-owned locations, and 136 franchised locations. For all of fiscal 2012, the company is guiding for 13 company-owned locations, and four Burger Works locations to be opened. The company recently expanded its presence in Florida with its first ever location in Miami. Currently 70% of the company's locations are company-owned, which offers the potential to eventually sell-off locations to franchisees as the company grows, or to secure cash for further expansion.
During an April analyst day, the chain called for adding over 200 stores over the next five years. Current guidance is 15-20 Red Robin openings in 2013, and 20 to 25 Red Robin openings in 2014. Those totals do not include the new Burger Works brand.
Red Robin Burger Works is the new fast casual spin-off idea of Red Robin. The first location opened in Denver back in November. Since that time an additional location opened on Ohio State University's campus. A third location is opening on May 21st. Burger Works locations are set to rival Smashburger and Five Guys Burger and Fries locations around the country. Burger Works locations offer burgers and chicken with cheaper price points of $4.49 to $6.49. Many of the items on the menu allow customers to build their own entrees, similar to other fast casual burger locations.
The goal for the Burger Works brand is to expand Red Robin into smaller settings like airports, military bases, food courts, sports stadiums, and college campuses. A current Red Robin location has an average square feet of 5600. The new locations only require 2000 to 4000 square feet and come with lower opening and operating costs. The locations are also expected to help Red Robin expand into urban settings. Current Red Robin locations are located close to movie theaters or shopping malls.
Red Robin has not announced the number of possible Burger Works locations and says it will take expansion of the brand slow. There will be five locations by the end of fiscal 2012. The number of Burger Works openings forecast in 2013 is five to ten. While it seems hard to imagine now, there certainly is a market for 500 Burger Works locations in the United States. Rivals like Smashburger and Five Guys continue to open stores at a rapid pace. If these five stores catch on by the end of the year, expect the company to accelerate this brand while the market is heating up.
Another growth initiative of Red Robin is the RED Royalty card program. As of March, the loyalty program had 1.4 million members. Some perks of the royalty card are:
Free birthday burger every year, during the birthday month.

Buy nine entrees, get the tenth entrée free.

Visit five times during the first five weeks, get $20 off on the sixth visit

Additional coupons throughout the year based on purchases.
Red Robin continues to expand its bar business and attempts to increase its beverage revenue. The company is launching a new happy hour, and revised its beverage menu. The company is also testing remodels at several locations to focus more on a bar atmosphere.
In a recent article, I threw around the idea of Red Robin being an acquisition target of Buffalo Wild Wings (NASDAQ:BWLD). Buffalo Wild Wings has said it wanted to acquire other companies to pair with its chicken brand. Perhaps with the new Burger Works brand, Red Robin is all set on its own.
I recommended shares of Red Robin back in November when they were trading at a price of $24.22. Shares have traded up since that article. Despite the earnings miss, the company has reported six straight quarters of same store sales growth. Expect shares to rebound from Wednesday's drop and approach $40 by next quarter's earnings.
Disclosure: I have no positions in any stocks mentioned, and no plans to initiate any positions within the next 72 hours.