I rarely write in-depth analyses of individual stocks. The last one I did was the article called "Why AT&T Stock Could Be Up Substantially by Year End." At the time back on July 24, AT&T was selling for $39.68, and closed at the end of the year at $41.56, an increase of 4.7%, not counting the dividend payment of 35.5 cents per share.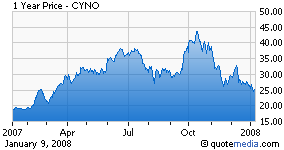 The stock I am covering in this post is Cynosure, Inc. (NASDAQ:CYNO), a manufacturer and seller of aesthetic treatment systems which appeal to the baby boomers. Some of its products include: Triactive for cellulite reduction; SmartLipo for laser body sculpting; Cynergy for vascular lesions and pigmentation; Affirm for wrinkle reduction anti-aging; and Elite for hair removal.
The company has customers in over 60 countries, and holds 37 patents in the United States. In November, the company reported its third quarter financials. The company's revenues increased by an amazing 70% to an all time record of $31.5 Million. Its net income was $4.4 million for the quarter versus a net loss of $4.2 million in 2006. International expansion is now a major goal of the company, and it is also expanding its marketing and sales support programs along with more distributor partnerships.
With a recent stock price of about $25, the stock caries a forward price to earnings ratio of 14, and a price earnings to growth ratio of 0.63. Last month, Citi Investment Research upgraded the company from a 'Hold' to a 'Buy.' Unless there is a serious recession, this company should continue to do well for several years.
Although this is not a recommendation [I never make recommendations], I strongly suggest further research into this company.
Disclosure: The author owns AT&T.