The E-Mini S&P 500 is still vulnerable to the contagion fears of the Euro Zone even in light of US data pointing to a modest recovery. US Housing Starts increased 2.6% to a seasonally adjusted 717,000 units while forecasts were set at a 680,000 unit rate. Single-family homes increased 2.3% while multi-family housing increased 3.2%. US Housing permits decreased 7.0% to a 715,000 unit pace while forecasts were set at a 730,000 unit pace.
US permits to single-family homes increased 1.9% in April to a 475,000 unit pace while the multi-family housing decreased 20.8% to a 240,000 unit pace. US Industrial Production increased 1.1% last month. Manufacturing output increased 0.6%. US Capacity Utilization increased to 79.2%. Analysts forecast US economy growth at about a 2.5% annual pace in the second quarter.
Facebook Inc. announced their IPO this week and already brokerages are declining participation. Facebook has about a billion members and about $4 billion in annual revenue and a successful name brand which continues to flourish. They may have restrictions that allow institutional investors and savvy advisors to participate. The details have not been expressed to date.
The minutes of the last FOMC meeting were released Tuesday reiterating the hold status of the current policy with no immediate plans for any further easing unless deemed necessary. The question is what would the Fed regard as "economic recovery losing momentum" or "downside risk to the forecast becoming great enough"? Operation Twist, revived from the 60s, is due to end in June and the next Fed meeting is in June. Operation Twist is the program to keep longer term interest rates lower by buying the long-term Treasuries and selling the short-term Treasuries. The US appears to be in a modest recovery, but what about the effects of a potential default in the Euro Zone?
German Chancellor Angela Merkel and the new French President Francois Hollande have vowed to keep Greece in the Euro Zone, but the leftist party somehow thinks that the bailout funds will come to Greece even without signing off on the austerity measures demanded by the lenders. The election of May 6th failed to provide government allowing Greece to assign a judge to act as an intermediate until the June 17th elections.
It is feared that the leftist may hold the majority vote. If so, the indebted country may decide to leave the Euro Zone, creating a spiral effect of downgrades to the other EU countries as Fitch's credit rating agency has warned. The major keepers of the Greek debt are the International Monetary Fund (IMF), the EU and the European Central Bank (ECB).
On the stock side: JP Morgan Chase and Co. (NYSE:JPM) was down 2.01 % to $35.51. Citigroup Inc. (NYSE:C) was down 3.20 % to $26.90. Bank of America (NYSE:BAC) was down 2.47 % to $7.12. Alcoa Inc. (NYSE:AA) was down 2.18 % to $8.52. Boeing Co. (NYSE:BA) was down 0.39 % to $72.30. Caterpillar Inc. (NYSE:CAT) was down 0.90 % to $91.85. General Electric Co. (NYSE:GE) was up 3.26 % to $19.00. Halliburton Co. (NYSE:HAL) was down 0.85 % to $30.32. Hewlett Packard Co. (NYSE:HPQ) was down 1.79 % to $22.00. SPDR Select Sector Fund - Financial (NYSEARCA:XLF) was down 1.46 % to $14.22.
E- Mini S&P 500 Chart.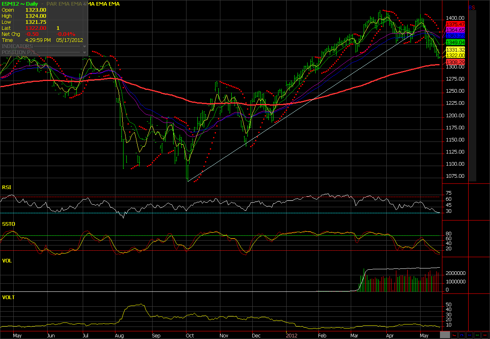 Thursday, what to expect: We maintain a bearish bias unless the E-Mini S&P 500 penetrates $1375.50. Thursday, we anticipate an inside to lower day. Wednesday's range was $1339.75 - $1320.75. The market settled at $1322.50. Our comfort zone or point of control for this market is $1328.75. Our anticipated range for Thursday's trading is $1337.50 - $1312.50.
Disclosure: I have no positions in any stocks mentioned, and no plans to initiate any positions within the next 72 hours.