During the last year, Sepracor (SEPR) has had a substantial correction in price, dropping over fifty percent. This significant decline has taken the market cap of the company to only $3.11B. Even with this significant drop, however, takeover rumors continue to circulate. StockRumors.com has received and reported takeover rumors on Sepracor virtually every two months since the beginning of 2006.
Most of Sepracor's current product line deals with Asthma. They also own the drug Lunesta, which is a sleeping aid for insomnia. Sepracor is currently developing several drugs which will mostly be used to treat depression, anxiety, and epilepsy. The product line that Sepracor owns, therefore, is small and very limited. Regardless of this, the earnings of the company have been, for the most part, growing.
During the past several years takeover rumors on Sepracor have typically been with Johnson & Johnson (NYSE:JNJ) as the acquirer. On occasion Pfizer (NYSE:PFE) has also been named as a possible acquirer. Sepracor is not usually mentioned as a leveraged buyout [LBO] candidate. The main reason for this is the relatively low free cash flow of the company, at only about $60M between the period of September 2006 and 2007. The Price / Free Cash Flow ratio [P/FCF] is about 53, meaning it would take 53 years of FCF to pay for the company. In addition to the low free cash flow of the company the total equity of Sepracor is at roughly only 8% of its market cap, which would make borrowing on the company difficult (8% is high for Big Pharma). Even though Sepracor would not be highly valued in the private equity market, the company is still growing and to another Big Pharma could be very attractive with a P/E of only 19.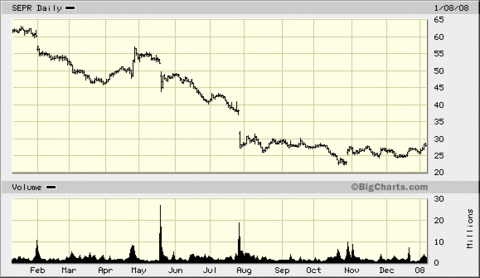 Johnson & Johnson as an Acquirer
The product offering of Sepracor would fit perfectly with Johnson & Johnson. Johnson & Johnson owns many different brands and medicines for a wide variety of illnesses. On their site, Johnson & Johnson has a list of Diseases and Conditions that their products can be used to treat.
Even with the wide variety of products that Johnson & Johnson offers, nothing on their list is for the treatment of asthma, anxiety or depression. By acquiring Sepracor, Johnson & Johnson would immediately acquire a large portion of the market for asthma drugs.
Johnson & Johnson currently has a market cap of about $193B with over $6.5B in cash. An acquisition would be very simple and could be done entirely with cash if Johnson & Johnson wanted to.
Pfizer as an Acquirer
Similar to Johnson & Johnson, Pfizer does not carry asthma or depression products on their list of products. Sepracor would also be a nice fit for Pfizer to acquire in order to expand their product offering.
Although Pfizer does not have enough cash to make a straight out cash purchase of Sepracor, it would still be extremely easy to acquire Sepracor.
Over at CNN, Aaron Smith in June, 2006 wrote:
Sepracor's sleeping pill Lunesta could look especially attractive to Pfizer, since its experimental sleeping pill indiplon garnered only mixed approval from the Food and Drug Administration last month.
Patent Problems?
Patent issues in the past have caused fear for investors in Sepracor. Barr Pharmaceuticals initiated a patent challenge on Sepracor's Xonepex product in mid July 2007 in an attempt to commercialize a generic Xonepex product.
This is not the first time the Xonepex patent has been challenged, and during 2005 there were reportedly three separate patent lawsuits from generic drugmakers.
Even with the seeming peril and possible loss of the Xonepex patent (some of whose patents expire in 2010 anyway), Sepracor is still in the game and is playing hard by developing new drugs and growing financially. It appears that the fear of losing the patent has mostly been priced into the company. While Sepracor's P/E is average for Big Pharma, the takeover and growth potential for most of the other Big Pharma companies is not as high.
Sepracor still appears to have good potential to be acquired. Takeover rumors have been going around for a long time. The market cap has continued to drop, and the opportunity to purchase has increased. The opportunity for Johnson & Johnson or Pfizer to acquire Sepracor is still good, and such an acquisition could be quite advantageous to both parties in an ever-consolidating market.