International Business Machines (NYSE:IBM) is now Warren Buffett's third largest holding, comprising 17.8% of the Berkshire Hathaway (NYSE:BRK.A) portfolio. IBM would be a wise investment if you wish to follow the footsteps of one of the best investors of all time.
IBM has evolved into a business with five main segments. The largest segment is Global Technology Services which generated about 40% of the company's revenue in Q1 2012. This was followed by the Software segment which generated about 23% of Q1 revenue. The remaining segments and their respective contribution to total revenue for Q1 are as follows: Global Business Services 18.6%; Systems and Technology 15%; and Global Financing 2%. IBM's effective execution in its segments has made it a leader in the information technology sector.
The stock tends to grow in-line with earnings over the long haul, which gives it a fair valuation. This fair valuation is reflected in the forward P/E ratio of 12.02, the PEG ratio of 1.26, and the price to book ratio of 11.09.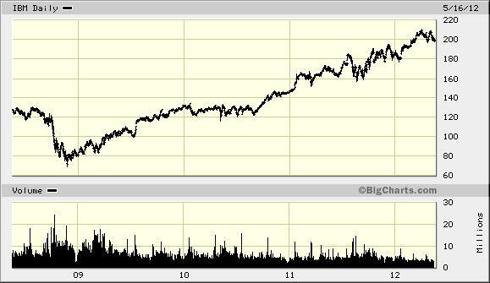 IBM is expected to grow earnings annually at 10.58% for the next five years. It also pays a dividend of 1.7%. This should allow the company to provide investors with a total CAGR of 12.28% for the next five years if dividends are reinvested.
Strategy #1 would involve simply participating in the IBM dividend reinvestment plan (DRIP), which allows for the automatic reinvestment of dividends to build shares. The company has increased its dividend for the past 17 years. Under this plan, a $10,000 investment should grow to be worth about $17,800 in 5 years, $31,800 in 10 years, and $101,000 in 20 years.
Strategy #2 involves participating in the DRIP plan with an initial investment of $10,000, but then adding an additional $1,000 to the plan every year. With this strategy, your initial investment should grow to $23,000 in 5 years, $48,000 in 10 years, and $174,000 in 20 years.
Strategy #3 would involve making an initial investment of $20,000 and then selling a call option against it. We'll look out one month ahead to June expiration and sell the June $205 call. By selling this call, you will have $189 credited to your account. This premium is yours to keep provided the stock doesn't rise to $205 or above by June expiration. Continue to do this every month with strike prices that are slightly out of the money to hedge your position and to collect extra premium. If you sold a call every month for a year for an average of $100 per contract, that's an extra $1200 in your account (an extra 6% yield). That's like turning the 1.7% dividend yield into a 7.7% yield. Use the collected premium to buy more shares.
Strategy #4 involves initiating your position in IBM stock by selling a put option. Look to sell the June $195 put. This will give you a credit of about $243 in your account. If the stock remains above $195 by June expiration, you keep the $243. If the stock drops to $195, you can exercise the option and buy IBM stock at $195 per share, a 2% discount to where the stock is now. Once you own the stock you can implement strategy 1, 2, or 3.
IBM is a steady, market outperforming company that can help you build wealth over the long-term without the high risk of losing money. Investors should consider it as an addition to their portfolio.
Disclosure: I have no positions in any stocks mentioned, and no plans to initiate any positions within the next 72 hours.
Additional disclosure: Although I don't own IBM individually, I do own it as part of a fund in my retirement account.