In preparation for the week ahead I would like to look at oversold equities (RSI below 30) for possible earnings plays along with relevant shares short information. Use this as a quick list for possible short squeezes or value plays. The list for this week's oversold stocks reporting earnings can be found here.
(all charts courtesy of finviz.com)
May 21st
Lowe's Companies Inc. (NYSE:LOW) - The home improvement store is trading at $29.32 per share, up 15% YTD. While there isn't much short interest in the stock it does have a compelling 12.7x forward earnings multiple. If housing has recovered then LOW would be in a perfect spot to move higher.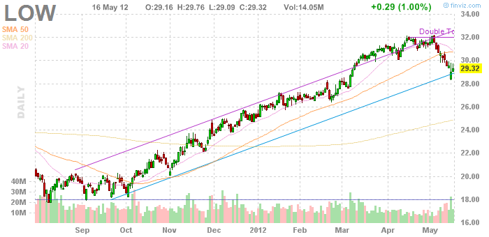 May 22nd
Ralph Lauren Corporation (NYSE:RL) - This clothing company is trading at $149.96 per share, up almost 10% YTD. Cotton is down more than 60% from its highs and trending lower in the futures markets. The lower input costs should help profitability going forward.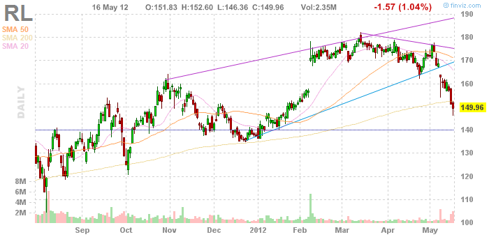 Dell Inc. (NASDAQ:DELL) - The computer maker is trading at $15.02 per share, up almost 5% YTD. With Windows 8 on the horizon Dell should benefit from new user interest in Microsoft (NASDAQ:MSFT) products again. DELL is trading at a paltry 7x forward earnings and has a 4 day short ratio. An earnings surprise could really help lift the shares 20% or more.
May 23rd
Hewlett-Packard Company (NYSE:HPQ) - Our pick of the week is the second computer maker on the list, it is trading at $22.03 per share, down 12% YTD. HPQ sports a forward earnings multiple of 5x, and should benefit from a Windows 8 rollout as well. The ultrabooks I saw at Office Max were clearly the best value and recent 13F filings show all-star managers have added the stock to their portfolios.
Disclosure: I have no positions in any stocks mentioned, but may initiate a long position in HPQ over the next 72 hours.