On Wednesday, May 16, Dendreon Corporation (DNDN) announced four presentations to be given at the Annual Meeting of the American Society of Clinical Oncology, or ASCO, taking place June 1-5, 2012 in Chicago, Illinois. These are:
"Overall Survival Benefit with Sipuleucel-T by Baseline PSA; An Exploratory Analysis from the Phase 3 IMPACT Trial," abstract #4684. General Poster Session, Genitourinary Cancer from 8:00 a.m. to 12:00 p.m. CT on Sunday, June 3, 2012.
"Evaluation of Immune Activation Following Neoadjuvant Sipuleucel-T in Subjects with Localized Prostate Cancer," abstract #2563. General Poster Session, Genitourinary Cancer from 8:00 a.m. to 12:00 p.m. CT on Monday, June 4, 2012.
"Neoadjuvant Sipuleucel-T in Localized Prostate Cancer: Effects on Immune Cells within the Prostate Tumor Microenvironment," abstract #2564. General Poster Session, Genitourinary Cancer from 8:00 a.m. to 12:00 p.m. CT on Monday, June 4, 2012.
"Correlation of Increased Eosinophil Count Following Sipuleucel-T Treatment with Outcome in Patients with Metastatic Castrate-Resistant Prostate Cancer (mCRPC)," abstract #4650. General Poster Session, Genitourinary Cancer from 8:00 a.m. to 12:00 p.m. CT on Sunday, June 3, 2012.
All are significant scientific contributions. But the one that caught my eye is the first - the one that analyzed the data obtained from the pivotal 512-patient study used in the BLA submission to the FDA for the approval of Provenge. Those data, you will remember, demonstrated a median 4.1-month survival benefit, though as I have noted, the actual median survival benefit may be as much as 7.8 to 12.1 months (here, here, and here).
What is so important about the first presentation cited above - and the actual abstract may be found here - is that when you break the data from the 512-patient study into subsets based on Baseline PSA, the results, in the words of the investigators, G. Chodak, et al., "…support a consistent overall survival, or OS, benefit with sipuleucel-T across PSA quartiles."
That is, when you look at the trends in the data, the lower the Baseline PSA, the greater is the magnitude of the life extension benefit. In the case of a patient with a Baseline PSA less than or equal to 22.1, the median life extension benefit is a stunning 13.0 months. Put another way, those men with less advanced disease may benefit more from treatment with sipuleucel-T. Unfortunately, the study was not sufficiently powered as to provide anything more than trend data. (That is, it is not possible to show statistically significant results.)
| | | | | |
| --- | --- | --- | --- | --- |
| | PSA of 22.1 or less | PSA of 22.1-50.1 | PSA of 50.1-134 | PSA of 134 and up |
| Provenge | 41.3 months | 27.1 months | 20.4 months | 18.4 months |
| Placebo | 28.3 months | 20.1 months | 15 months | 15.5 months |
| Difference | 13 months | 7.1 months | 5.4 months | 2.8 months |
Table courtesy of the authors.
It has long been thought by many in the community that patients with lower PSA scores should expect better outcomes when treated with Provenge. Intuitively, one would expect that lower PSA scores would go hand-in-hand with a healthier immune system, thereby providing an enhanced 'platform' from which to launch an immunotherapeutic treatment. This also has important implications with respect to the sequencing of Provenge with other treatments such as JNJ's (JNJ) Zytiga and Medivation (NASDAQ:MDVN) MDV3100 (or enzalutamide).
Technical Analysis
The daily chart, courtesy StockChart.com, is below. It shows the issue down in all three parameters we track. The stock dropped some in after-hour trading Wednesday on unconfirmed rumors that the SEC has opened a probe on the company's disclosures. This is old news.
The fact is, the company's May 7 10Q filing indicated that
[T]he Company has also become aware that the Securities and Exchange Commission ("SEC") has commenced a formal investigation, which the Company believes may relate to some of the same issues raised in the securities and derivative actions. The ultimate financial impact of these various proceedings if any is not yet determinable and therefore, no provision for loss, if any, has been recorded in the financial statements. The Company has insurance that it believes affords coverage for much of the anticipated costs of these proceedings, subject to a $1.5 million self-insured retention and the policies' other terms and conditions.
The company is cooperating fully with the SEC.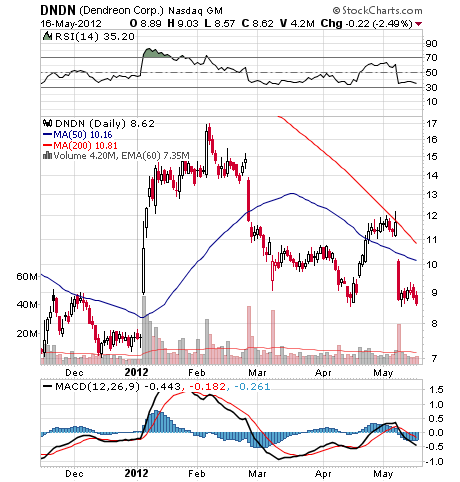 The weekly chart is more encouraging, as we noted a few days ago. It shows the stock still rising out of its oversold condition, with the MACD neutral. Interestingly, there is the hint that the price is sitting on the lower boundary of an upwardly trending channel defined by the maximum and minimum price excursions dating back to last July.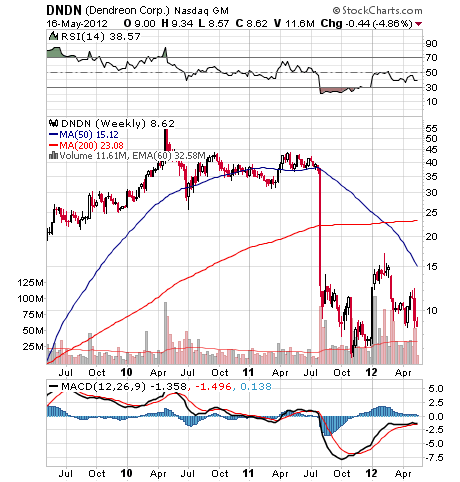 Disclosure: I am long DNDN and will not alter my position within 72 hours of the time of publication of this article.