Eddie Lampert continues to stock Sears (NASDAQ:SHLD) with well-known quality brands. Beginning this spring, Sears becomes the exclusive national retailer to sell the Snapper brand of lawn equipment.
From the Press Release:
"As the leading retailer of powered lawn and garden equipment, we're very pleased to add another all-star brand to our roster," said Jeff Rothe, vice president and general merchandise manager for Sears Holdings. "Now consumers have both Craftsman, the nation's leading and most trusted brand, and Snapper -- to select from when shopping at Sears for their lawnmower and tractor needs.

"With these two powerhouse brands, plus our existing brands, Sears offers the largest powered lawn and garden assortment to our customers. Additionally, Snapper's spokesperson Brett Favre will introduce the new mowers, tractors and their availability at Sears in a new national ad campaign set to appear in late February," Rothe said.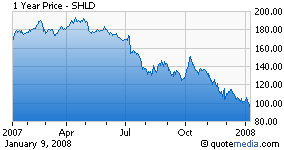 The Snapper line of products will be available in all Sears Full-line stores, Sears Hardware stores and Sears Dealer stores. In addition, look for a new interactive Snapper site on the lawn and garden page, www.sears.com.

Back in November I posted my thoughts that Lampert was attempting to assemble a "store of brands" that could then be advertised to people. This Snapper move is another important step in that direction. The best part is getting Brett Farve in the deal. His promotional activities for both Snapper and Sears are sure to pay off. Farve is a respected name and to witness his effect, the Wrangler Jeans division of VF Corp (NYSE:VFC) experienced record profits in 2006 and 2007 as Farve became the spokesperson for them. In short, what he pushes sells.

Lampert is assembling a great brand lineup and it will payoff. In the meantime the cash position of the company remains strong, the share count is evaporating and the balance sheet is the strongest in the industry.

Disclosure: Long Sears.