[Excerpt of an MGI Research Note from December 2007]
On November 27th, 2007 Callidus Software (NASDAQ:CALD) announced a re-structuring that included a cost reduction plan, the appointment of a new head of sales, and a $10 million share repurchase program. An event of this type for a company with modest visibility like Callidus would typically not invite a lot of commentary. Yet, if one was to take a closer look at the applications software sector, a question would naturally arise: Why is Callidus the only company that has recently announced plans to improve efficiency and profitability? Why aren't more software companies taking concrete steps to reinforce their business models? This is not to pick on Callidus, €" at least the new CEO - Leslie Stretch is taking steps in the right direction.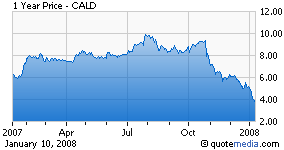 The application software vendor sector is full of companies with low efficiency scores that until recently have had little incentive to focus on margins and cost controls. Examples include Imageware (IW), Chordiant (CHRD) and Selectica (SLTC). ASVs are entrenched within many of their customer accounts, a situation that often leads one to expect windfall profits, yet ASVs have low scores compared to their peers€™ amongst technology firms in other sectors such as semiconductors and Internet software. Most of the sub-billion dollar market capitalizations ASVs also have sub-standard MGI Index scores indicating very low business model efficiency and a potential vulnerability in an economic downturn.
The writing has got to be on the wall for any ASV with MGI Index scores below 500: Follow the example of Callidus and look for ways to boost economic efficiency of your company€. While many CEOs often privately express reservations about an aggressive restructuring program while staying public, we believe such fears are unfounded, especially when it comes to companies with market caps below $1 billion and specifically in the current market environment. The alternative is to be acquired by a private equity firm that would take the company private, execute a restructuring campaign and resell the same business for many times its current value. The other, an even less palatable choice, is to become a punching bag of shareholder activist hedge funds.
In the case of Callidus, the centerpiece of the cost reduction effort is an 8% reduction-in-force [RIF], representing 35-40 full time positions. While a step in the right direction, new CEO Leslie Stretch will likely have to take additional actions to €œdrive "profitable growth"€. An early entrant in the workforce compensation management software market, Callidus has long been a laggard in MGI benchmarks. In the most recent quarter, the company ranked 60th out of 65 in the MGI Application Software Vendors [ASV] sector benchmark. The company'€™s overall score (387) is not surprising, given that the company has produced only one profitable year since 2000.
The RIF is positive news, as the company'€™s MGI scores relative to its previous quarter, and year-ago quarters were negative. With revenues greater than $100 million, a major product release cycle now behind it and an unimpressive prior track record, it would not take a lot of effort to improve company performance. Management'€™s stated 2008 goal is 5-10% operating margins. With a history of low MGI scores, Callidus management likely faces an entrenched culture of inefficient operations. From management comments during its recent teleconference, R&D and marketing expenses are likely to see further reductions. If well-executed, this restructuring will have a positive impact on the business and boost the confidence of Callidus customers.
Looking at the bigger picture, the Callidus profile is one that fits our screen for companies most likely to face challenges in 4Q2007 and into Q1-Q2 of 2008. As we have outlined in previous research, we expect tech companies with a material exposure to select vertical industries such as financial services, retail, and consumer-oriented verticals, to likely struggle with top line growth and margin pressure. Tech companies with a high dependence on these vertical sectors have an above average probability for missing their Q4 numbers. With over 25% of its customers in these verticals (namely financial services, high tech, and retail), Callidus is aiming to act ahead of the gathering storm. Its history of inefficient operations relative to peers is another risk factor heading into a potential market downturn. On the positive side, the company has zero debt, $50 million in cash, and a new CEO in place who is beginning to take corrective measures.