A few items came out this week which bolster the bear case on American Tower (NYSE:AMT).
First MSCI announced that AMT would not be included in the US REIT index after their comprehensive semi-annual index review. Wall St. analysts had been giddy with the prospect of an avalanche of demand for the shares from Index investors which will now not take place.
More importantly I have found what I consider to be some misleading disclosures regarding both tower ground lease renewal rates.
Below is a slide taken from the recent management roadshow the CFO took with analysts and salespeople from Bank of America (NYSE:BAC). It reads very well and seems impressive on the surface. However looking into the information makes me question their calculations.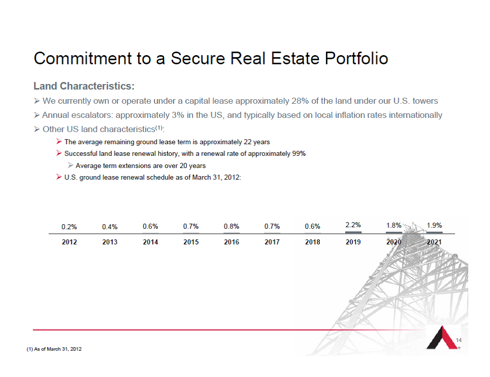 AMT asserts in the slide that they have been successful in renewing 99% of their ground leases.
"Successful land lease renewal history, with a renewal rate of approximately 99%."
Trying to back into this number we need to know how many leases are coming up for renewal. Both the CEO and CFO acknowledge that there are around 80 ground leases per year which come up from renewal.
"I think on average kind of 80 parcels that are coming up for renewal on an annual basis,"- Tom Bartlett CFO May 3rd, Conference Call
"80 ground leases per year that are coming up for renewal over the next few years annually". - James Taiclet, CEO May 3rd Conference call
There are 10 specific towers I am aware of which AMT was unable to renew in 2011. I have confirmed with industry sources of at least another 10 which will not renew this year, with the same number falling out of AMT's portfolio every year for the next 5 years. These deals are already done and AMT has no further claim on cash flows from these towers. So if there were 80 towers up for renewal in 2011, and so far I can identify at least 10 which did not renew, how exactly do they calculate a 99% renewal rate? I have requested clarification from the company, but not received any response.
This is a symptom of what I feel is a broader problem with American Tower. AMT's disclosure policies have become more opaque since they stepped up their foreign acquisitions in 2009.
Who is the unnamed "Independent Tower Operator" to whom AMT has paid $636.3 million dollars?
American Tower has been an acquisitive company throughout its history, and it is notable that every transaction EXCEPT the last few in Brazil, the name of the entity which AMT is buying the assets from has been disclosed. Since 2009 AMT has paid at least $636.3 million to an unnamed entity for towers located in Brazil.
Which Independent Tower Company??
"we acquired approximately 565 towers from an independent tower company in Brazil in March 2011. The addition of these assets increased our sites in Brazil by over 30%, to approximately 2,300 towers, in advance of planned 3G deployments by NII Holdings and others in that country."
-2010 Annual Report
AMT has been extremely selective when choosing what to tell investors about where their money is going in Latin America and especially Brazil. AMT has a history of "Backdoor" enrichment of its executives, ($14.1 million worth in 2006 to the former CEO as well as current board member Raymond Hess) which was perfectly legal and disclosed in their filings. My concern is that they have chosen to no longer disclose any specific transactions which may benefit executives and directors.
Until 2010 AMT laid out the various conflicts of interest in a specific section of their proxy statements titled: "Certain Relationships and Related Party Transactions." It seems that in 2010, as the company was at the height of it's international expansion, they adopted a new position relative to disclosure of related-party transactions by simply choosing not to disclose them at all. Instead AMT's lawyers felt it was sufficient simply to discuss the policies in place for "ratification" of related party transactions, but made no specific disclosures as to whether any of these types of transactions took place during the year or during the past three years as required by SEC Rule 404(a).
This shift in disclosure indicates that either:
American Tower did not enter into any related-party transactions since February 2007.
American Tower did enter into related party transactions since 2007 and they just don't want to disclose them.
American Tower has engaged in some pretty egregious related-party transactions before. Until December 2006 AMT was engaging in options back-dating for key executives and lending executives money to purchase shares in subsidiaries which would ultimately be re-sold back to the parent company at substantially higher prices. These transactions and subsequent disclosures likely made for a few uncomfortable conversations with investors who may have taken note.
But now they have a committee for that…..
Since 2010, AMT's proxy statements have contained the following language as their only reference to related-party transactions:
Approval of Related Party Transactions

Our Corporate Governance Guidelines include a policy for the review and approval of all transactions involving the Company and related parties by the Nominating and Corporate Governance Committee….The policy covers any transaction that is not available to employees or Directors generally and any transaction exceeding $120,000 in which related parties have a direct or indirect material interest. Under the policy, management will recommend to the Nominating and Corporate Governance Committee any related party transaction to be entered into by the Company, including the proposed aggregate value of the transaction. After review, the Committee will approve or disapprove the transaction and management will continue to update the Committee as to any material change to that proposed transaction. In the event a related party transaction is entered into by management prior to approval by the Committee, the transaction will be subject to ratification by the Committee. If ratification is not forthcoming, management will make all reasonable efforts to cancel or annul the transaction.
It is notable that since 2010 AMT has made no disclosure of any related-party transactions, I do not believe this is because they stopped doing them, instead they have a committee which can "ratify" (aka "whitewash") them. If I were a shareholder I would make an information request to see the minutes of the Corporate Governance Committee, I'm sure it would be an interesting read.
So an enquiring mind might be interested in who the people are that sit on this committee.
NII Holdings (aka Nextel International)
NII Holdings is the holding company for Nextel Communications in Latin America. Sprint Nextel owns 18% of NII Holdings. Sprint Nextel (NYSE:S) was 14% of AMT's revenue in 2011, and 18% in 2009.
Nominating and Corporate Governance Committee. Our Nominating and Corporate Governance Committee consists of Mr. Dolan (Chairperson), Ms. Reeve and Mr. Sharbutt. During the year ended December 31, 2011, the Nominating and Corporate Governance Committee held four meetings. This Committee establishes performance criteria for the annual evaluation of the Board and its committees and oversees the annual self−evaluation by Board members. In addition, this Committee develops and makes recommendations with respect to our Corporate Governance Guidelines (including the appropriate size, composition and responsibilities of the Board and its committees), approves or ratifies all related party transactions
So who are Dolan, Sharbutt and Reeve?
Raymond P. Dolan sold his company (Flarion) to Qualcomm,(NASDAQ:QCOM) which does substantial business both with AMT and its customers, additionally he has served as director of NII Holdings,(from whom AMT bought its initial towers in Brazil, the balance have been purchased from an undisclosed seller). Currently Mr. Dolan is the CEO of Sonus Networks,
Mr. David E. Sharbutt serves as a director of Flat Wireless, LLC (later bought by Sprint , which provides 14% of AMT's revenue),
Ms. Pamela D. Reeve serves as a director of Frontier Communications Company (NYSE:FTR). She is a former investment banker for Goldman Sachs (NYSE:GS) and was a defendant in several shareholder lawsuits alleging that she played a central role in the options backdating scheme which AMT stopped in 2006.
Less than 5% ownership, so it's OK……
Mr. Sharbutt of Sprint = $7.5 Billion Mkt Cap.
Ray Dolan of NII Holdings(NIIH) = $2.2 Billion Mkt Cap.
Pam Reeve of Frontier Communications = $3.2 Billion Mkt Cap
So these are the people who are in charge of making sure that related party transactions are ratified? AMT takes the position that these directors are in fact independent because they do not own more than 5% of the company which AMT does business with.
AMT asserts that these directors are "independent" because either they own less than 5% of the companies they are associated with:
So the Billion Dollar Question is: From whom is AMT buying towers in Brazil?
The most recent 10-K shows further acquisition activity from an undisclosed seller in Brazil. This is real money we are talking about here. A total of $636.3 million has been spent on towers and AMT does not want you to know from whom they were purchased. This is highly unusual, especially in light of the fact that AMT's practice has been to name from whom they are buying towers in all other transactions AMT has made in recent years.
$636.3 million to Someone…..that is a lot of money and not a lot of detail.
Brazil Acquisition-On July 22, 2009, the Company completed its acquisition of 230 towers and related third party leases located in Brazil for an aggregate purchase price of approximately $51.3 million, which consisted of $50.5 million in cash and the assumption of $0.8 million in liabilities. This acquisition is consistent with the Company's strategy to expand in selected geographic areas.
Brazil Acquisition-On March 1, 2011, the Company acquired 100% of the outstanding shares of a company that owned 627 communications sites in Brazil for $553.2 million, which was subsequently increased to $585.4 million as a result of acquiring 39 additional communications sites and certain post−closing adjustments. The acquisition is consistent with the Company's strategy to expand in selected international markets.
Source: AMT Filings via EDGAR
My Opinion
In my opinion there has to be a reason why AMT would specifically choose not to disclose the name of the seller. This would only happen if there was some relationship with the seller of the Brazilian towers which the management of AMT would rather not talk about. AMT has in the past allowed managers and board members to participate in the equity of subsidiaries. So it is not out of the question that some of the executives and or board members may have a personal interest in the towers which AMT eventually buys. By knowing what AMT will pay for any tower, it would be possible for an opportunist to enrich themselves by buying or building towers for less and then sell them along to AMT for a price which they know AMT will pay.
While certainly unethical, the legality of such a scheme depends upon the extent it is disclosed, which in turn is subject to management's objective estimation of its "materiality."
Mr. Bartlett joined the company in April 2009 as Executive Vice President and Chief Financial Officer, and assumed the role of Treasurer in February 2012. Prior to joining the company, Mr. Bartlett served as Senior Vice President and Corporate Controller with Verizon Communications Inc.
Is it a coincidence that AMT adopted a radical change in their disclosure practices in the same year as the highly regarded CFO Brad Singer was fired? Which immediately preceded a vast ramp-up in AMT's offshore purchase activity? In my opinion it could be that Brad Singer knew what was going on and refused to be part of it. In his absence Jim Taiclet was able to hire a more cooperative CFO by enlisting a VP out of his largest customer Verizon, and here we are today.
You be the judge.
2010 Expansion Effort Goes Into Overdrive
During 2010, we increased our footprint in Latin America primarily through the acquisition and construction of approximately 1,700 towers in Brazil, Chile, Colombia, Mexico and Peru. During 2010, we also expanded our presence in India through the acquisition of Essar Telecom Infrastructure Private Limited ("ETIPL"), adding over 4,600 towers to our communications site portfolio. We also constructed approximately 500 towers in India. As previously disclosed, in 2010 we entered into definitive agreements to acquire communications sites in Brazil, Chile, Colombia, Ghana and South Africa, subject to customary closing conditions.
Crown Castle (NYSE:CCI) and SBA Communications (NASDAQ:SBAC)
Words to Live By….
"Consistently meeting the highest ethical standards throughout our organ-ization requires the active participation and commitment of all employees, starting with me and my team, and extending throughout every office and every department in our global organization." - Jim Taiclet, CEO
Disclosure: I am short AMT.