There are reports Thursday morning that Apple (NASDAQ:AAPL) is going to stop using Akamai's (NASDAQ:AKAM) content delivery network for iTunes and switch to a Google (NASDAQ:GOOG)-operated CDN. Tech Trader Daily has learned that the rumor is simply false.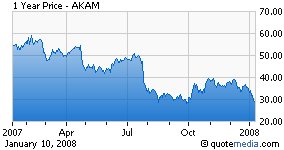 A spokesman for Akamai declined to comment on the rumor, but did note that the company has had a strong relationship with Apple for close to 10 years. Ergo, if you download a song or video from iTunes, it is carried over Akamai's network.
The story is being attributed to the Swiss American Securites division of Credit Suisse. I haven't got the details; however, I have asked Credit Suisse PR to track it down, and will let you know when I do.
Akamai shares Thursday are down 31 cents, or 1%, at $28.91.
Update:
Just for the record, Philipp Lisibach, head of U.S. equity research for Credit Suisse, confirms that his firm was not the source of Thursday's rumors about Akamai and its relationship with Apple. The rumor was that the comment came from the company's Swiss American subsidiary, which largely servers non-U.S. clients. But Lisibach says Swiss-American does not have its own research arm - and he also points out that Credit Suisse does not currently cover Akamai.