Since the most recent high in April, the equities market and stock exchange traded funds have been slowly receding. Analysts are now worried that the tepid decline may snowball into a full-blown corrections as scared investors exacerbate the drop.
As of the April 2, 2012 market high, the S&P 500 has diminished 4.6%, a little short of the 5% to 10% decline to be defined as a "pullback," Sam Stovall, Chief Equity Strategist at S&P Capital IQ, wrote in a research note.
"So far, the fall is simply noise, in our opinion," Stovall said. "Of course, many investors are becoming unnerved by the growing intensity of this noise, believing it may be signaling the onset of a more severe storm. As a result, they have begun to act like a dog frightened by thunder that seeks the shelter of a nearby bed."
Historically, since 1950, the S&P 500 has experienced a median 19 days to fall past the 5% threshold to hit a market pullback. Additionally, 72% of all pullbacks, corrections and bear markets fell below the 5% decline threshold in 28 days or fewer, compared to 25% of pullbacks that took over 28 days to become corrections and less than a third turned into new bear markets.
"Therefore the duration of this 'noise' likely indicates that the ultimate decline will be contained, unless new worries emerge or existing concerns become increasingly intensified in the coming weeks or months," Stovall added.
Nevertheless, S&P Capital IQ believes the S&P 500 will experience a pullback of 5% to 10%, due to sub-par U.S. growth projections, accommodative Fed, mild recession in Europe along with a sluggish recovery and lower Chinese growth.
Equity ETFs are pausing for breath after a big first quarter.
The phenomenal recovery in global markets during the first couple of months helped propel global equities to one of their best first quarters. Emerging markets, along with the health care, consumer discretionary and financial sectors, were among the top performers in Q1.
Over the first four months of the year, 609 equity ETFs showed a positive year-to-date total return, with 23 ETFs vaulting more than 20%, Tom Graves, S&P Capital IQ ETF analyst, wrote in a separate research note. Meanwhile, only 21 equity ETFs showed negative returns. In comparison, the S&P 500 Index had a positive return of 11.9% over the same period.
Of the 609 positive equity ETFs, 339 were based on domestic indices and 226 had an international and global emphasis. The S&P Global Broad Market Index, which excludes the U.S., was up 9.1% in the first quarter.
In the first quarter, 11 equity ETFs had returns of more than 25%. Seven covered the emerging markets or frontier markets and four followed U.S. markets. Additionally, six of the 11 followed the health care, consumer discretionary and financial sectors.
SPDR S&P 500 (NYSEARCA:SPY)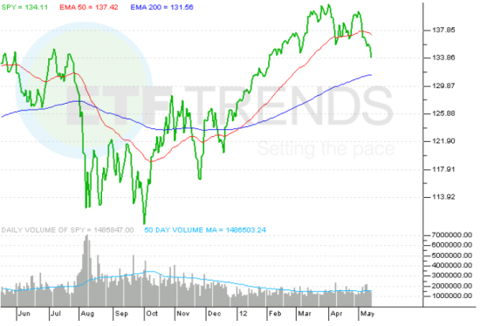 Max Chen contributed to this article.
Full disclosure: Tom Lydon's clients own SPY.
Disclosure: I am long SPY.