When Frontier (NYSE:FTR) announced fourth-quarter results it also reduced the yearly dividend from $0.75 to $0.40. We noted in a previous article that the dividend cut, while painful to many, was necessary. The cut added flexibility to:
Meet pension obligations
Reduce and/or refinance debt
Lower leverage
Lower payout ratio (42% at midpoint of 2012 FCF guidance)
The stock was trading at $4.52 and at the time yielding 8.8%. Currently the stock is trading around $3.20, pushing the yield up to 12.5%. The high yield represents the market's fear the dividend may not be sustainable. We'll take a look at some metrics and recent events in an effort to determine if a dividend cut is in the cards.
Below is FCF (free cash flow) guidance at the end of the March quarter, provided by management.
Click to enlarge all images.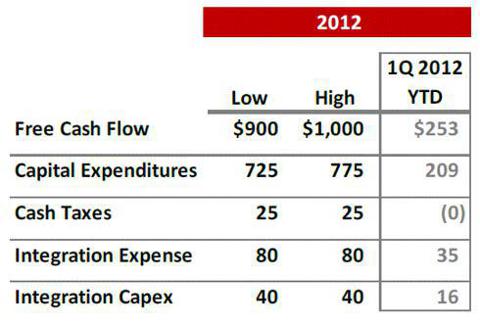 Source: FTR Q1 2012 earnings slide presentation.
The current yearly dividend payout is $400 million. Based on the above, there is more than enough cushion. But it is important to note FTR has its own formula for FCF -- i.e., it is not cash from operations as filed in the cash flow statement minus capex. The following details how FTR computes FCF: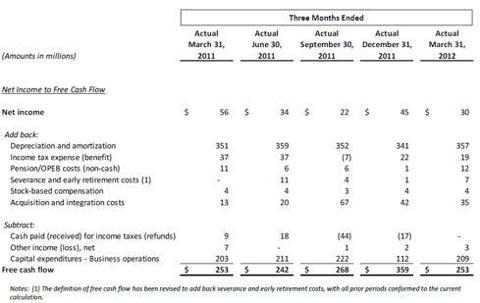 Next we will take FCF as calculated by FTR and compare it to FCF as calculated from the SEC filings (cash from operations minus capex) to look for any diverging trends from guidance. As a reference we'll also include a line for the old and new dividend.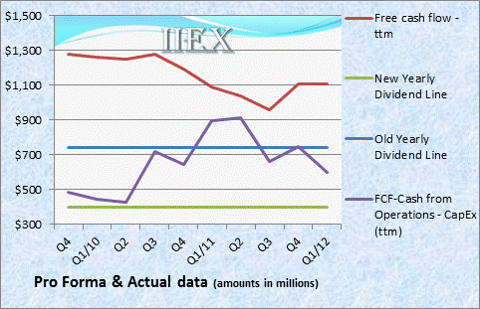 The red line is FCF as calculated by management. The above shows why many were surprised when the dividend was cut; after all, FCF as measured by FTR was well above the old dividend line. Once we superimpose the traditional measure of FCF, a different picture develops: The dividend was not sustainable. Looking at the graph the new dividend appears safe, but the traditional FCF trend is clearly down -- a red flag. Tie this to pension uncertainties and the debt elevates the concern as a large cash cushion is required to meet these obligations. The debt profile is as follows: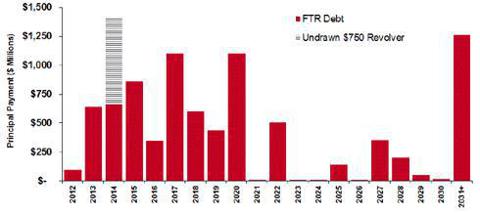 It is critical that FTR maintain the ability to refinance debt as needed.
Finally, on May 16 FTR filed an 8-K in response to investor concerns, providing 2013 guidance as follows:
Revenue growth is a top priority in 2013 just like it is in 2012. We will roll out retention, win-back and upgrade initiatives for both residential and business customers. In addition, we will offer several new products primarily in the broadband category for businesses. We anticipate these activities to reduce our annual revenue decline to low single digits.

Operating on one set of systems and processes across all states and all markets should enable us to further drive cost reductions in 2013 of at least $100 million. Our capital expenditures in 2013 will be approximately $625 million to $675 million. (A decrease of $100 million from 2012)

With lower interest costs in 2013 and higher cash taxes we therefore expect to be able to once again generate very strong free cash flow.
The company also expects integration expense to be completed by the end of 2012. To get an idea of what FCF may look like in 2013, we will use TTM (trailing 12 months) cash from operations, ignore the expected cost reductions of $100 million, and add back the TTM integration costs since they will no longer exist in 2013. This gives us cash from operations of about $1,605 million. Using the high end of 2013 capex guidance of $675 million yields FCF of $930 million. This is substantially higher and a reverse of the trend based on the actual results in the FCF graph given above. This would match the company's comment listed above.
Based on 2013 projections, the dividend appears safe through 2013. However, all this is predicated on the following:
It follows through with the following statement in the 8-K: "We plan to have ample cash to pay down the 2013 debt and we will be opportunistic in refinancing all or part of the 2014 and 2015 debt."
There are no major pension surprises -- i.e., it meets its expected return. The pension recorded a positive investment return of $83.5 million in Q1. This is a very high three-month return of 6.6%, but as we've learned in the past this can quickly reverse. So far so good.
Additional integration costs end in 2012.
Finally, we need to restate part of the conclusion from our previous article because this will continue to be an overhang on management until they prove otherwise:
Management's credibility has suffered due to the dividend and free cash flow issues as previously discussed (in the article linked above). Have they gotten the message? If yes, they have probably become more conservative with their projections and the dividend will continue to support the stock. If no, then management will continue to guide down, putting the safety of the dividend in question, i.e., today's price would represent a value trap. Unfortunately, the direction will not become apparent for several quarters.
The credibility issue goes to past guidance and statements concerning the dividend that were proved to be inaccurate.
Detailed financial data used in this article can be found here.
Disclosure: I am long FTR.