Quality Systems, Inc. (NASDAQ:QSII) [$29.71 on 5/16/12] develops and markets computer software for medical and dental practices across the United States. The software consists of practice management, community connectivity solutions, and revenue cycle management services. The company provides electronic health records (EHR) to over 60,000 physicians spanning 2,200 group practice customers. Practices use the software to upgrade from paper records to reduce problems associated with outdated file/folder systems and reap the many benefits of electronic organization.
QSII is selling at 24x cash flow and 29x net free cash flow. Revenue and cash flow increased year over year from 1998 to the present. The P/E ratio is 22, below the median and trailing P/E of 26 and 31 respectively. Net profit margins oscillated between 29% and 36% over the last nine years, currently standing at 31.5%. Return on total capital is a strong 35%. QSII has no debt, and an assets-to-liabilities ratio of 2.7 to 1. The dividend increased from $0.38 to $0.70 over the last eight years, with periods of stagnation in 2007 and 2012. The current yield is 2.3%, high compared with the industry average.
While these fundamentals are not extraordinary on their own, QSII shines when compared with its competitors and the industry average. Industry leaders such as Allscripts Healthcare Solutions (NASDAQ:MDRX) and Computer Programs and Systems Inc. (NASDAQ:CPSI) lag behind QSII in key fundamental areas. QSII's net margin is 4% higher than CPSI and 14% higher than MDRX. Higher net margins are going to determine who can make the most of the large potential customer base (70% of practices still use outdated paper systems). As competition gets fiercer, this advantage will ease some of the pressure. Also, QSII has the lowest P/E ratio (MRDX at 31.3 and CPSI at 24.2).
QSII is an aggressive growth stock. I believe that the change to EHR systems is inevitable among healthcare practitioners. Technological advances replace outdated systems. Sometimes it is a slow process and sometimes it is quick, but eventually everyone upgrades, similar to companies adopting the internet in the early 2000s. There are still hundreds of thousands of clients for the taking, and QSII is thirsty for growth, as the CEO openly challenged, stating his projection of QSII doubling in size over the next five years.
Risk includes heavy competition, client management issues, and short-term earnings volatility. Also, QSII's small market cap of $1.75B creates less stability than larger caps. Despite these problems, the pool of potential customers is large enough to be shared among several companies. QSII will get better at handling larger amounts of clients and these current issues facing the company will ease. As said above, this is an aggressive growth stock with a higher risk/reward ratio than large-cap dividend plays. However, the risk is lower than most aggressive plays, making this stock appealing to more conservative investors looking to diversify their portfolio.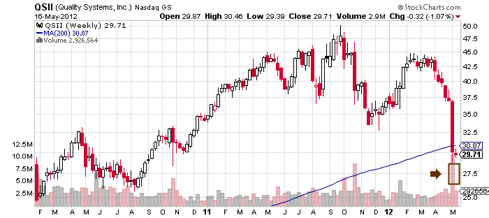 The stock price has declined 34% in the last 3 months. This is due to a weaker than expected fourth quarter guidance, as well as competition fears. However, I believe these fears to be overblown and not reflected in the current stock price. Competition is always present and QSII's focus on EHRs will give it an edge attracting new clients. This presents a unique opportunity for investors to jump in at a steep discount. The brown box on this chart represents an ideal buy price creating some margin of error. Buying somewhere in the box is a good place to start building a position in this momentous company.
Disclosure: I am long QSII.