By Carla Pasternak
A state-owned monopoly until 1994, Magyar Telekom (NYSE: MTA) ($27.38) is now Hungary's largest full-service provider of telecommunication services. It carries local and long-distance phone services, Internet-based television, high-speed Internet, cell phone, and wireless data services.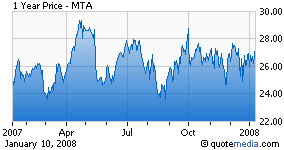 Roughly 80% of Hungary's phone customers subscribe to T-Com brand, which markets Magyar's traditional, fixed-line phone services. The company also dominates the mobile phone business, with a 45% market share. As well, Magyar provides a full range of telecom services in the nearby states of Montenegro and Macedonia and has a footprint in Bulgaria, Romania, and the Ukraine. Magyar is well financed, with Germany's phone giant Deutsche Telekom (NYSE: DT) holding a 59% stake in the company.
Dividend: Magyar typically pays a dividend once yearly, usually in May. The latest distribution of slightly more than $1.87 went ex-dividend on May 15th and was payable on June 1st. In addition, the previous year's dividend of slightly more than $1.85 also went ex-dividend this year. As a result, total dividends paid to shareholders in 2007 rounded out to $3.73. That gives the shares a trailing yield of 13.6%.
Management has said it seeks to keep its balance sheet flexible for potential acquisitions. As such, it pegs its dividend payouts to a targeted debt to total capitalization (which includes debt plus shareholders' equity) ratio of 30-40%. With the company sporting a current debt to total capitalization ratio of just 15%, future dividend payouts should be secure at current levels.
The Budapest-based company maintains a dividend reinvestment plan and can be contacted via its website for more information.
Performance Drivers: The local phone business continues to generate rich and stable cash flows, which amply support the dividend while also funding future growth.
While the residential telephone service isn't growing, the company is using the substantial cash flows from this business to acquire other telecom operators both within Hungary and in surrounding countries. In October, for example, the company bid on acquiring an equity interest in Slovenije dd, a telecom provider in nearby Slovenia.
As well, the company is leveraging its large base of existing customers to market new broadband, cell phone, and wireless services. In 2006, Magyar integrated former stand-alone division T-Mobile Hungary, and more recently, it incorporated Emitel and T-Online. In addition to reducing administrative expenses, this integration benefits the company by making it easier to cross-sell and up-sell services to existing customers.
In the third quarter of 2007, Magyar increased revenues overall about +2.5% versus the comparable period of 2006. A standout was its T-Systems unit, which provides telecom services to businesses and grew its revenues by more than +30% compared to the year-ago period.
Cost-cutting to improve profit margins is another key tactic. Magyar plans to have -5% fewer group-level employees at its headquarters in 2008, which should provide important cost savings. A simplified organizational structure based on customer segmentation to be introduced in 2008 should also lower costs.
Valuation/Outlook: Earnings are estimated to have grown about +23% in 2007, and expectations are +13% in 2008, and average around +11% annually over the next five years. Selling for just ten times next year's projected earnings, the shares seem reasonably priced, especially considering the hefty dividend yield.
Disclosure: none