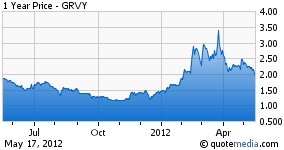 Gravity Co. Ltd. (NASDAQ:GRVY), the South Korean gaming firm, has been watched carefully all this year by value investors looking to a high-return investment opportunity. Prior to this spring, the significant majority of the company's revenue came from one of its massively-multiplayer online role playing games, Ragnarok Online. However, this spring brought the long-awaited release of Ragnarok 2 - yet many investors are left wondering why the market hasn't corrected to what GRVY's implied price per share should be.
Many analysts and investors believe GRVY's fair value is in the $6-$10 range at the very least; however, shares are trading below $3 consistently. There was a short spike in trading immediately after Ragnarok 2's release, but nothing since. On April 16 of this year, shortly after GRVY rose to the mid-$3 range (high at $3.47) before falling back to current levels in a dramatic show of market efficiency followed by a sustained gains-realizing sell-off, frequent Seeking Alpha contributor Jae Jun argued that one primary factor contributing to GRVY's volatility was the limited release of Ragnarok 2 in Korea alone:
3. Steep Decline in Stock Price

There was clearly a huge buying spree leading up to the date of RO2 official launch in Korea which pushed prices above $3.

The game is released only in Korea. This is not a world wide launch and is therefore not receiving wide spread attention. This must have been a huge disappointment for many, especially those who were trading on momentum.

The beauty of Gravity lies in the future as the game matures and RO2 expands to other countries.
Today, Gravity Co. Ltd. has exhibited exactly what our colleague predicted: worldwide success in the release of Ragnarok 2. Gamers not only in Korea, but all across the world have been able to enjoy Gravity Co.'s new product. Given the nature of massively-multiplayer online role playing games, there are significant network effects and benefits involved to greater numbers of users. It follows, then, that the news about the game and its positive aspects will spread rapidly among aficionados of the first Ragnarok Online, capitalizing upon the already existing market structure and penetrating new consumer bases as well. Further, a P/E ratio of 4.69 is incredibly cheap for the gaming industry. Thus, I predict that GRVY shares will soon demonstrate precisely what investors and analysts have been waiting for for months.
TTM EPS for GRVY is at $0.46; the company is next set to announce earnings results on July 27, 2012. In the final analysis, every signal points towards a dramatic earnings surprise, perhaps moving GRVY shares to the predicted $6-$10 range by August 1. At the peak of trading after the original Ragnarok game was released, GRVY reached levels in the $10 range. Even greater potential exists here, as the company is releasing many new innovative gaming products. Potential downside risk is extremely limited, as tangible book value per share offers a compelling price floor for shares around current trading prices.
GRVY already represents a substantial portfolio holding for me; if prices remain in the sub-$5 range over the next week or so with no market correction, I plan to double down and make Gravity Co. Ltd. my largest holding. Moreover, this isn't just a short-term play to make a quick buck; GRVY has had positive free cash flows for the last decade, and the fact that it is still trading near tangible book value per share with significant development potential in the future for additional games points to a long-term investment opportunity post-August. Hedge fund managers in New York and Boston are also rumored to be investigating whether GRVY is a good fit for them; all of the discussed variables, combined with the enormous upside potential of billions of dollars of assets under management flowing into GRVY equity shares is too much for me to resist. Holding onto winning shares after the summer earnings announcement for longer than a year could be a great way to take advantage of U.S. long-term capital gains tax treatment at the 15% level. Either way, if all this plays out correctly, this will certainly be a summer to remember.
Disclosure: I am long GRVY.