These days, investors are treated to a sea of red by U.S. equities on an almost daily basis. Combine some weak U.S. economic data points with concerns about how hard China's economic landing will be along with the always present doubts that the euro common currency will survive and it's easy to see why investors have shunned risk in a big way.
While the risk off environment that has been seen since March stands in stark contrast to the ebullient, risk on days of January and February, there are places to turn. Investors just need to know where to look that. Keep in mind that 2011 was a risk off year that sent investors scurrying into three sectors: Consumer staples, health care and utilities.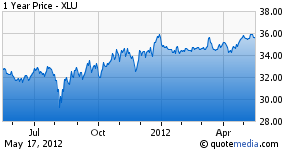 That trend is once again at play. High-beta sector funds such as the Energy Select Sector SPDR (NYSEARCA:XLE) and Financial Select Sector SPDR (NYSEARCA:XLF) have been hammered in recent weeks, but amid the aforementioned sea of red, there are glimmers of green. They come courtesy of boring old utilities stocks and the Utilities Select Sector SPDR (NYSEARCA:XLU), the largest and oldest utilities ETF on the market today.
XLU's performance has been so strong in the past month that the fund is sporting a nearly perfect inverse correlation to the SPDR S&P 500 (NYSEARCA:SPY). In the past month, SPY is down almost 3% while XLU is up exactly 3%.
In fact, XLU is proving to be the ultimate, yet an underrated safe haven. At the sector level, the Health Care Select Sector SPDR (NYSEARCA:XLV) and the Consumer Staples Select Sector SPDR (NYSEARCA:XLP) are both higher in the past month, but neither by even 1%. The U.S. dollar has seen its safe haven status reborn in recent weeks, but even with the benefit of 13 consecutive higher closes for the U.S. Dollar Index, the PowerShares DB US Dollar Index Bullish (NYSEARCA:UUP) has also underperformed XLU.
Then there is the matter of yield. A dollar yields nothing unless it's put to work in a CD or money market and even then the yields are piddly. Individual staples and health care stocks are often home to robust yields, but XLV's current dividend yield is merely in line with what an investor can have with the broad S&P 500. XLP's yield barely exceeds that of the Dow Jones Industrial Average. On the other hand, XLU yields almost 4%, compensating patient investors as they ride out the market's volatility with utilities.
Earning the crown as "Best ETF" for any moment in time is hard for any of the nearly 1,460 exchange-traded products on the market today. That said, it might not be a bold proclamation to anoint XLU as the best sector fund for the current market setting.
Disclosure: I have no positions in any stocks mentioned, and no plans to initiate any positions within the next 72 hours.