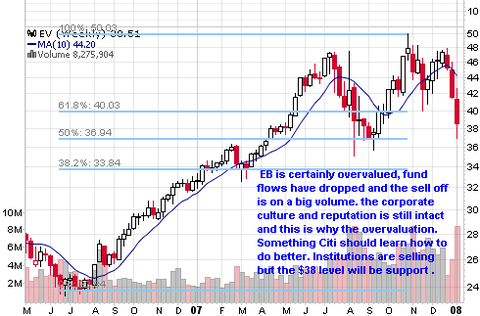 Yesterday, Goldman added Eaton Vance (NYSE:EV) to its Americas Sell list, lowered estimates for the firm and shifted fellow asset manager Fortress Inv. (NYSE:FIG) to Neutral. Goldman expect 2008 organic growth to decelerate from 17.8% rate to a 4% by mid-year. The firm expects the shares to revert to an in-line with peer group multiple, from a 25% premium. Close-end fund launches alone generated over 57% of EV's longterm asset growth during 2007 and that is not expected to be the case going forward. In the past Goldman has recommended firms with higher quality franchises and positive momentum [Black Rock (NYSE:BLK), Och-Ziff (NYSE:OZM), and Federated Investors (NYSE:FII)]. The firm seems more undecided on Legg Mason's (NYSE:LM) future (up 4% yesterday, mostly short-covering).
Our 1- year price target is $35 from $43, ~13% downside from current levels. We think EV shares will underperform given: (1) the impact of worsening economic conditions on EV's bank-loan NAVs and fund flows (EV is one of the largest buyers of leverage loans); (2) a lack of closed-end fund launches (which accounted for 50% of '08 flows) to augment Y/Y growth beyond F08; (3) over-reliance on large-cap value to drive equity flows (during a growth-investing cycle); and (4) valuation that does not fully discountslower net flow momentum. Our new $35 12-month DCF- based price target represents a P/E multiple in-line with historical levels and peers at 17x.
EV currently trades well above its historical 9% premium.
Risks U.S. Asset Managers proved a safe haven among the financials in 2007 and finished up 16% while the rest got clobbered -22%. Economists are now forecasting a recession. Expect to continue to view asset managers as "defensive financials", however, the group is not isolated from weak equity markets. The pursuit of overseas assets and the rise of non-traditional asset management are two main themes that may brighten up EV's future.