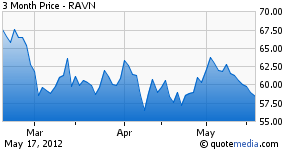 Raven Industries Inc. (NASDAQ:RAVN) is slated to report its first-quarter fiscal 2013 results before the market opens on May 18. The Zacks Consensus Estimate for earnings for the quarter is 89 cents per share, representing an estimated year-over-year increase of 3.49%. Revenues, as per the Zacks Consensus Estimate, are $112 million.
Fourth Quarter Synopsis
The company, in the fourth quarter (ended January 31, 2012), reported adjusted earnings of 60 cents per share, beating the Zacks Consensus Estimate of 48 cents and exceeding the year-ago earnings of 41 cents.
Revenues in the reported quarter increased 36% year over year to $96.3 million, comfortably surpassing the Zacks Consensus Estimate of $78 million.
Raven, which competes with companies like Graco Inc. (NYSE:GGG), Spartech Corp. (NYSE:SEH) and privately held Sigma Plastics Group, experienced healthy growth in its top line due to double-digit sales expansion across all the segments.
Estimate Revision Trend
Agreement
Estimate for the first quarter reflect absolute lack of activity with no movement in either direction over the last 7 and 30 days. A similar trend applies for fiscal 2013.
Magnitude
The Zacks Consensus Estimates remained the same for both the first quarter and fiscal 2013 over the last 7 and 30 days.
Earnings Surprise History
With respect to earnings surprise, Raven has topped the Zacks Consensus Estimate in three of the last four quarters while it met the forecast in one occasion. The company delivered an average positive earnings surprise of 24.85% over the preceding four quarters, implying that it has beaten the Zacks Consensus Estimate by that measure.
Our Take
Raven has realigned its business segments in line with its long-term growth strategy. It has deployed the assets and team members of the Electronic Systems segment to the Aerostar and Applied Technology segment. The company will now operate through three business segments. Raven has planned to incorporate nearly 75% of the sales of the Electronic System segment into the Aerostar segment.
Recently, Raven has increased its quarterly dividend by 17% to 21 cents per share, marking the 26th consecutive year of dividend increase.
However, the volatile resin prices may weigh on the results of the company. Moreover, the order backlog in the Aerostar division is minimal for aerostats and surveillance systems. Therefore, the division's sales are expected to decline in the first quarter on an year-over-year basis.
Our long-term Outperform recommendation on Raven is in agreement with a short-term Zacks #3 Rank (Hold).