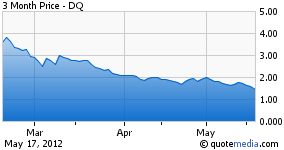 Those who live by the sword die by the sword. Perhaps this saying is too strong to use on Daqo New Energy (NYSE:DQ), but it does embody the company's recent dramatic reversal of fortune. As primarily a single vertical polysilicon producer, DQ enjoyed many quarters of disproportionately high polysilicon pricing when polysilicon was most undersupplied relative to other downstream verticals. Tight supply and high pricing has often led to over investment, and high levels of polysilicon capacity expansion in the past several years has finally caught up with the industry. In just one quarter, spot market average selling prices("ASP") for polysilicon were cut in half to below $30/kg in the fourth quarter of 2011.
Polysilicon ASPs for Daqo in Q4 2011 did not decline as much as the spot market indicated, but still declined from approximately $52/kg to $30/kg sequentially. The company's blended ASPs may have been buffered by a higher mix of electronic grade polysilicon which is more pure and hence commands higher pricing than solar grade polysilicon. With as much as half of its production consisting of electronic grade polysilicon as mentioned in its Q4 earnings conference call, Daqo was able to report a blended polysilicon ASP around $30/kg which was well above spot market quotes of $25/kg or even less.
Unfortunately for Daqo and as noted in my third quarter review, its polysilicon production costs are somewhat fixed in the near term. With production costs also around $30/kg, DQ generated no gross profit from its main business segment which in the past posted gross margin over 60%.
Daqo's downstream integration attempts have only had limited impact as its Q4 silicon wafer and solar module shipments remained small at 7.8MW and 9.6MW respectively. More importantly, these newer business segments continued to operate at marginally negative gross margin. As a result, Daqo was forced to take a $38.5m impairment charge on its relatively new wafer and module capacity.
Based on the company's product mix, its non-silicon related revenues generated -4.6% gross margin on revenues of $13.1m. Overall revenues in the fourth quarter were $38.2m, slightly shy of my $40m estimate. With polysilicon gross margin near zero, DQ's blended gross margin in the quarter was -1.6%. However as I cautioned due to its high inventory level at the end of the third quarter, Daqo took another larger inventory provision of $10.6m in the fourth quarter.
Overall, Daqo posted a US GAAP loss of $39.4m or -1.12 in earnings per share("EPS"). Excluding the company's asset impairment charge and inventory provision along with tax benefits which resulted, DQ lost approximately $3.5m at the operational level vs. my $5.5m operational loss estimate. The difference was mostly attributed to lower operating expenses as well as a higher than anticipated subsidy grant in the fourth quarter.
With inventory now significantly written down to spot market pricing and the majority of Daqo's downstream capacity already written off, the large non-operational charges witnessed in Q4 2011 are unlikely going to repeat. However, based on Daqo's capacity and cost structure, the company will likely continue to post negative gross margin in the near term as spot market pricing in its key verticals remain low.
For the first quarter 2012, Daqo guided polysilicon shipment to range between 800-900 metric tons, with 16-17MW wafer, 2.9MW branded module, and 2.4MW oem services. From this guidance along with metrics given in its Q4 earnings conference call, a first quarter 2012 earnings estimate has been compiled below. As usual, this estimate mostly represents operational figures and excludes unannounced gains or charges the company may record.
DQ Q1 Earnings Estimate:
Revenues: $29m

Shipments: 850mt polysilicon, 16MW wafer, 3MW module, 2MW oem

ASPs: $28/kg polysilicon, $0.31/watt wafer, $0.85/watt module, $0.07/watt oem

COGS: $31m

Gross Loss: -$2m

Gross Margin: -$2m / $29m = -6.9%

Operating Expenses: $3.5m

Net Interest Expenses: $2.5m

Subsidy Income: $2m

Tax Benefit: $1m

Net Loss: -$5m

Diluted Share Count: 35.2m

EPS: -0.14
Moving forward, Daqo has plans to expand its polysilicon capacity with another plant in Xinjiang province which should result in lower production costs. Once completed, blended polysilicon production costs are expected to drop towards $25/kg. Other horizontal expansion to take costs in house if implemented successfully could ultimately reduce DQ's overall blended production costs to the low $20s/kg. However with current spot market pricing already at or below $25/kg, Daqo will be hard pressed to generate any gross profits from its polysilicon business in the near term even if its cost reduction efforts prove successful.
Additionally, Daqo's downstream wafer and module expansion may not fare much better. With operational expenses stripped to the bone and research and development almost non-existence vs. peers already spending tens of millions, DQ's branded module strategy may ultimately be marginalized. In short, Daqo may have made its downstream strategic initiatives a little too late. With most of its resources already tied to its upstream polysilicon expansion, they company may be forced to maintain focus on polysilicon production and hope market pricing stabilizes to more accommodative levels.
Despite a fairly high debt load, Daqo still has the benefit of being able to generate positive operating cash flow. As noted in my previous DQ article, cash cost of polysilicon production is significantly lower than all in costs which include high levels of depreciation. Of the $30/kg polysilicon production cost in the fourth quarter, cash cost of production may have been as low as $20/kg. Combined with low operating expenses required to maintain a single vertical polysilicon business, Daqo should still be able to operate at a cash flow neutral or positive state excluding financing and capital expenditures linked to the completion of its new polysilicon plant.
Thus, Daqo still has the potential of becoming a fairly large scale polysilicon producer. The bigger question is how profitable can Daqo be depending primarily on this single vertical. With polysilicon oversupply likely to last through 2012 and perhaps into 2013, Daqo may have to focus on survival by strict cost controls which may limit its chances of success expanding beyond its original roots. Compared to larger integrated peers with higher levels of downstream integration closer linked to end market demand, Daqo New Energy is perhaps a higher risk solar play with limited upside potential when the industry emerges from its recent consolidation cycle.
Disclosure: I have no positions in any stocks mentioned, and no plans to initiate any positions within the next 72 hours.