We had questioned last week whether 2008 would turn out to be the "Year of the Bear" in the stock markets considering the lurking full-blown recession in the horizon. We had also concluded that a 50 bps rate cut seemed a certainty at the upcoming FOMC meeting.
The events that unfolded this week confirmed most of our contentions. Sentiments were battered following last week's thrashing. After enduring a nervous session on Monday due to the resurgence of some hostilities with Iran, stocks declined sharply on Tuesday following disappointing pending home sales data and rumors of Countrywide filing for bankruptcy. Stocks, however, rebounded sharply from their intra-day lows on Wednesday driven by an upbeat profit forecast from Dow component Dupont and the stepping down of Bear Stearns bridge-and-golf-playing chief executive Jimmy Cayne. A stronger than expected earnings announcement from another Dow component Alcoa and Bernanke's speech hinting towards further aggressive rate cuts lifted spirits up briefly, fueling strong gains on Thursday. The most notable gainer for the day was Countrywide Financial which shot up over 50% in a sudden intraday spike following rumors of Bank of America agreeing to acquire the struggling mortgage lender. The gains were however, short-lived, with stocks resuming their descent on Friday following reports of Merrill Lynch writing down an additional massive $15billion and American Express increasing its loan loss reserves to cover increased customer defaults.
[click all charts to enlarge]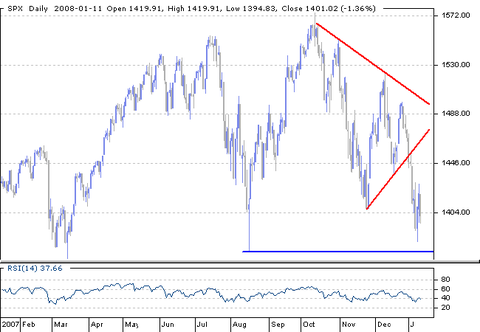 Most stocks ended the week lower - the third straight weekly decline - with majority of the losses witnessed in the higher beta Nasdaq indexes and the small and mid cap laden Russell 2000. The Dow Jones Industrials, S&P 500 and Nasdaq Composite are now well and truly below their summer closing lows.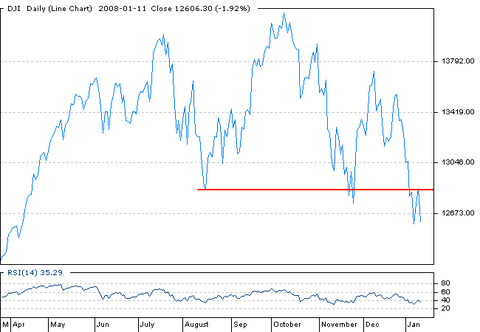 All the frontline indexes are way below their October highs and some are on the verge of breaking down below their entire 2007 trading ranges. In this period, the utilities have expectedly shown a clear out-performance, while the financials have lagged miserably behind.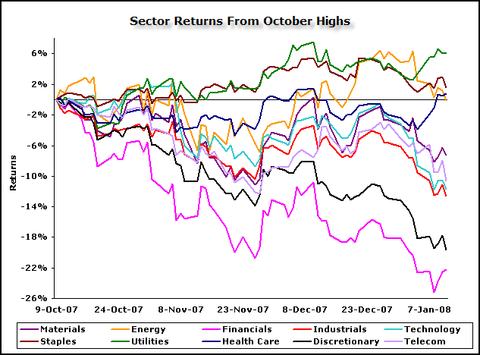 While the S&P 500 is now around 12% from its intra-day highs in October, individual stocks are taking it much harder on the chin. As seen in the chart below, the average stock in the S&P 1500 universe is down over 30% from its 52 week highs, with small cap stocks faring a lot worse than their large cap counterparts.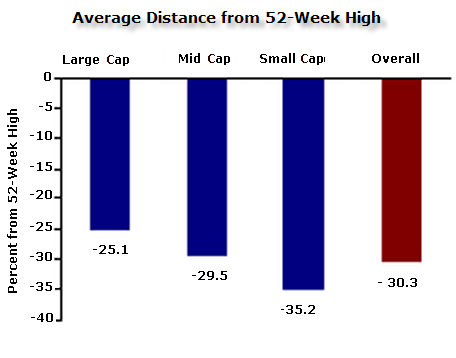 The stock market clearly has got off to a bad start in 2008 and the bears are understandably circling the hapless bulls. Already, the Dow Jones Industrials and S&P 500 are down 4.9% and 4.6% respectively YTD while Nasdaq 100 and Russell 2000 are down 8% each. (Year of the Bear?) The stock markets are now behaving like a chronic alcoholic who has had frequent unsuccessful visits to Alcoholics Anonymous over the past few months. With time, it becomes increasingly difficult to wean the alcoholic away from his addiction. With time, it has become increasingly difficult for bulls to muster up the strength to stage a recovery. The good news gets discounted instantly, while the bad news is brooded over. In such a scenario, forecasting far out into the year is a tricky exercise indeed. Nevertheless, we look back at some historical statistics, that indicate how January has set the tone for the rest of the year. With earnings season getting busy next week, we also try to figure out what could lie in store on that front. We finally conclude with some Fedspeak that hogged the headlines this week and try to unearth some clues from them.
Old timers on Wall Street would probably have come across market historian Yale Hirsch's phrase, "as goes January, so goes rest of the year". Statistics back up this catchy slogan. In 46 of the past 58 years since 1950, the S&P 500's year-end finish mirrored how it fared in the first month of the year. Even in 2007, stocks gained a modest 1.4% in January, with the year end tally being up 3.5%. Every down January on the S&P since 1950 without exception preceded a new or extended bear market, or a flat year. According to research done by Sam Stowall, S&P's chief investment strategist, a hypothetical portfolio of the 10 best-performing S&P industries in January has beaten the overall S&P 500 in the remaining 11 months of the year 75 percent of the time since 1970.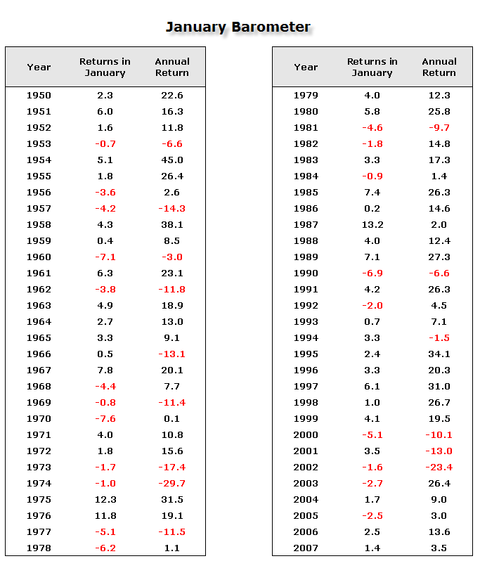 Lucien Hooper, a Forbes columnist, noted back in the 1970s that whenever the Dow Jones Industrials breaks below its December closing low in the first quarter of the next year, it frequently acts as an excellent warning sign for more trouble ahead. All but one of the 27 such instances since 1952 witnessed further declines, with the Dow falling an additional 10.5% on average. Only three significant drops occurred when the December low was not breached in Q1 (1974, 1981, 1987).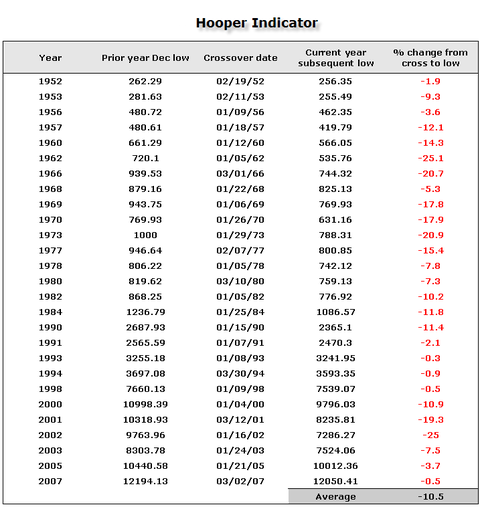 Quirky market indicators need to necessarily be taken with a fistful of salt. Nevertheless there is no denying that a weak January becomes a psychological negative that weighs on stocks for the rest of the year. Events in January tend to set up things for the rest of the year. It is an uphill battle akin to a football team falling behind by two touchdowns in the first quarter of the Super Bowl. By that token, the statistics shown above seem formidable. However, there is one statistic in favor of bulls that deserves a mention. Since 1949, election years have been lopsidedly bullish with an average gain of 9.3% and only two negative years (1960 and 2000).
All eyes on the earnings
We are now firmly into the earnings season. The next three weeks will see the bulk of corporate America report their 2007 year end results. From where we sit, it sure does not look good. Earnings estimates have taken a remarkable hit in the past few weeks. At the start of 4Q, analysts estimated S&P 500 stocks to report an earnings growth rate of 11.5%. That has of course now changed. Thomson Financial estimates that blended S&P 500 earnings, combining actual numbers for companies that have reported and consensus estimates for companies yet to report, is likely to have declined 11.3% in 4Q, largely driven by mammoth downward revisions in Financials. This is the wildest swing in estimates within a quarter, ever since Reuters began compiling them in 1999.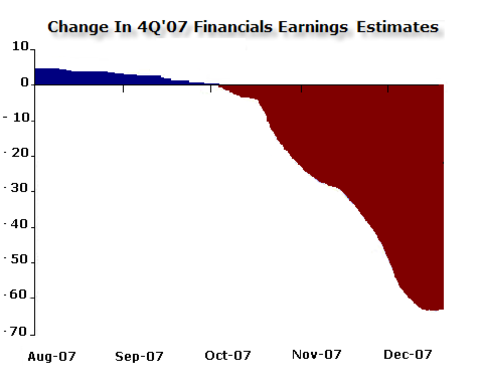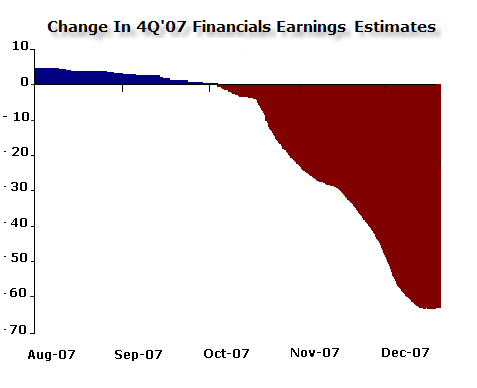 However, if one were to exclude the Financials from this tally, the earnings picture looks a lot better. On this basis, cumulative earnings ex-Financials could be expected to increase 12%, in line with forecasts issued in early October. Utilities, Energy, Technology and Telecom are all expected to have notched up earnings growth of 15% or more in 4Q. All sectors except Financials are expected to notch up positive earnings growth in each quarter of 2008. Nonetheless the unrelenting weakness in Financials has turned overall sentiment bearish heading into the thick of the earnings season. On a contrarian note, this excess negativity could actually turn out to be bullish for the broader markets if the other sectors report inline or better than expectations. It will be interesting to note how the earnings season shapes up.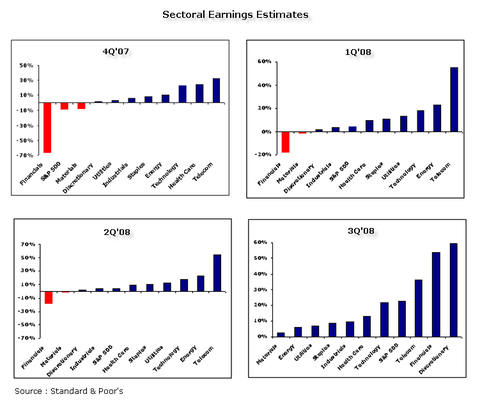 In an unusually blunt speech to a business group in Washington this week, Fed Chairman Ben Bernanke hinted that the economic outlook had indeed taken a turn for the worse into the new year. He noted that "the baseline outlook for real activity in 2008 has worsened and the downside risks to growth are now more pronounced", effectively rewriting the Dec 11 FOMC statement. This marked shift may possibly have been driven by last week's Labor Department report that showed that the jobless rate jumped to 5% in December and the first decline in private sector employment since 2003. Bernanke pledged that the Fed stood "ready to take substantive additional action' and 'provide adequate insurance against downside risks."
Similar sentiments were echoed this week by other Fed speakers as well. Fed Governor, Frederic Mishkin, a former collaborator with Bernanke on academic research, suggested that "waiting too long to ease policy... might well increase the overall amount of easing that would eventually be needed." Philadelphia Fed Bank President Charles Prosser, who is considered by economists as the toughest on inflation, moderated his stance this week, hinting that slumping consumer spending is his biggest concern at the moment.
The consensus has now solidly shifted toward a 50 bps rate cut as shown by the chart from the Cleveland Fed below. Fed funds futures contracts traded on the CBOT suggest that the odds of a 75 bps rate cut this month jumped to 43% from virtually zero earlier in the week, suggesting that some traders at least see the chance of a move before the FOMC meeting.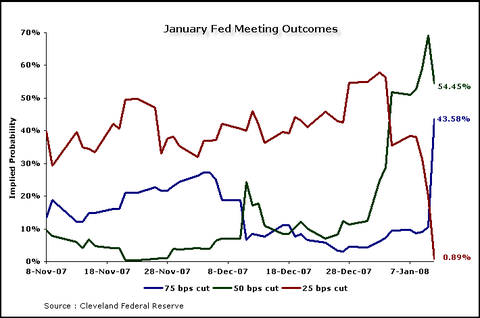 Why is this change of heart from the Fed significant? Is it significant at all? Bernanke has generally sought to avoid front-running the committee. By that token, such an aggressive message suggests that there has been some committee-wide communication in the past few days. The Fed seemed to have underestimated the magnitude of the credit shock and its subsequent fallout. Its monetary policy stance "appeared to somewhat restrictive", as admitted in the minutes of the Dec 11 meeting released last week. Despite denying that his models indicate a recession in the making - the politically correct thing to say - the Fed chairman may now be worried that his worst fears are indeed coming true. The 14-page speech contained just a single paragraph on inflation and even that seemed to downplay the threat of inflation against the larger evil of slowing growth, signaling a resolution to the long-standing debate over the competing risks of slower growth and faster inflation. By stating that 'monetary policy remains the Fed's best tool for pursuing its macroeconomic objectives, Bernanke has primed the market for a 50 bps rate cut when the FOMC meets later this month while also keeping the possibility of a inter-meeting rate cut open even as it pursues the other tools in its arsenal such as the Term Auction Facility.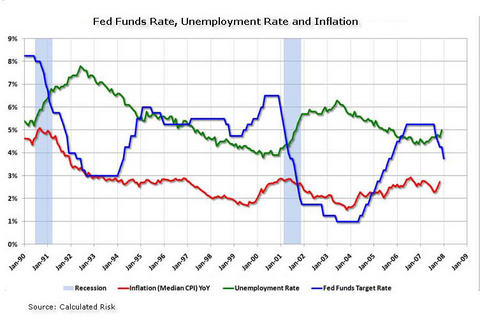 As shown in the chart above, it is not unusual for inflation to be rising moderately as the Fed embarks on a rate cutting spree in response to faltering growth (brief period of stagflation). The weakening economy usually takes care of the inflation. This is what the Fed is now betting on. But could inflation be a bit more persistent this time? Import prices rose by 10.9% in 2007, the biggest calendar-year increase since 1987. Data released this week indicated that US trade deficit in November widened to $63.1 billion, its most in two years, driven by a phenomenal surge in oil prices, overshadowing record levels of exports that have been driven by a weaker dollar and growing demand from Asia and Latin America. Back-of-the-envelope calculations suggest that the average price of oil in 2007 would be around $65. A sustained $90 and above price of oil in 2008 would inflate that trade deficit by another $100 billion. Resurgence of tensions with Iran this week provide further supply side shocks that could keep the ground for oil fertile in 2008 as well.
The Fed found itself stuck between a rock and a hard place and bravely decided to lean towards the side that hurts less. Bernanke is a smart man... he sure realizes the options before him. The economy suffers from not just illiquidity, but also insolvency, which cannot be resolved with monetary policy alone. In its dance of denial, the Fed has remained behind the curve for over a year in its mistaken assessment of the risks of a recession. The aggressive Fed easing now will only limit the depth and extent of a recession; it will in all probability fail to prevent it. Further, inflation concerns aside, the risk of a dollar free-fall and the risk of foreigners pulling the plug on the external financing of the nation's burgeoning current account deficit will limit how much the Fed can ease. When the economy is grappling with a glut like now (glut in housing, autos, consumer durables sectors etc., similar to the glut of tech capital goods in 2001), pushing more money into the system is akin to a pushing on a string.
Markets have rallied every time the Fed eased and/or suggested further rate cuts. But these rallies seem to be running out of steam and are becoming increasingly short-lived. Bernanke's speech this week met with only a tepid response. Like 2001, a full fledged bear market might get underway when investors at large realize that the Fed easing will not prevent a recession. As the popular pop song goes, it may just be a case of "too little, too late!"