Recently, the U.S. instituted a tariff on Chinese-made solar cells. The tariff comes after the U.S. Commerce Department ruled that Chinese firms have been selling solar cells at below market prices because of government subsidies. The tariffs vary based on the individual company, but the tariffs are mostly around 31%.
Winners
The two obvious winners from the tariff are San Jose, California based SunPower Corp (NASDAQ:SPWR) and Tempe, Arizona based First Solar Inc (NASDAQ:FSLR). These companies are winners because they are both based in the U.S. While these tariffs are not likely a long-term solution to the problems facing U.S. based solar companies, the tariffs may serve as a short-term catalyst for the stocks. Both FSLR and SPWR have high short interests, FSLR has a short interest of 47% and SPWR has a short interest of 7.70%. News of the tariffs may be enough to cause some shorts to cover their positions.
Losers
The major losers from the new tariff are the Chinese solar companies. Some of the hardest hit include JA Solar (NASDAQ:JASO), LDK Solar (NYSE:LDK), Trina Solar (NYSE:TSL), Renesola (NYSE:SOL), and Suntech Power (NYSE:STP). For these companies, the tariffs come at a time when business is already extremely difficult. While it is hard to say exactly how much impact the new tariffs will have on these companies, there certainly will be some negative impact. The weak financial state of some Chinese solar companies means that the tariff could be just enough to push them over the edge. If nothing else, investors should now be more cautious when trading Chinese solar stocks.
The chart below shows the divergence between U.S. based solar companies and China based solar companies following the news.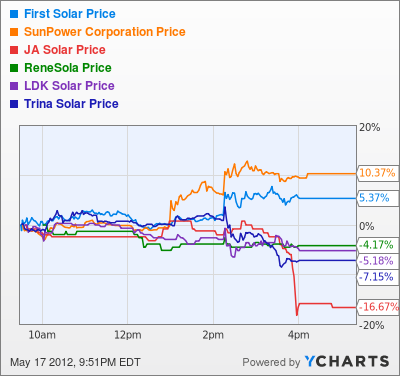 Disclosure: I have no positions in any stocks mentioned, and no plans to initiate any positions within the next 72 hours.