Curis (NASDAQ:CRIS) is one of the those companies Wall Street loves to hate – and so far, with good reason.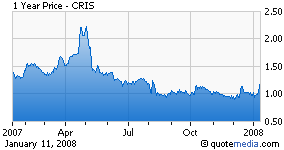 It has sucked investors dry for many years in attempts to develop novel treatments for various forms of cancer. The company has consumed hundreds of millions in capital before and after going public in 2000, and now trades at little more than a buck -- off of an early high of near $25. It appears to be a dog with fleas.
But it is also a $70 million (and change) market cap company with about $40 million in cash that has concrete plans for a Phase II trial with a partner. That partner, Genentech (Private:DNA), is arguably the world's leading cancer company and they don't do Phase II trials unless something good has a reasonable possibility of happening.
Genentech also does very sound trials – proper design, proper size, lots of listening to history and the FDA. DNA will pay Curis an unspecified milestone payment when the trial commences. If the drug makes it through the FDA to the market, Curis would receive royalties that are, to date, unspecified.
The stock is up more than 20% since that announcement (a whopping 20 cents), so at least some people think this might be an intriguing development.
What is this Phase II trial all about? Curis has developed what is called a Hedgehog antagonist, an entity that works along the Hedgehog pathway and could be used, if it proves to work, against several forms of solid tumors. This technology (again, if proven to work) is surrounded by lots of intellectual property protection and is extensible to a variety of cancer types. Nothing more in the way of information has been forthcoming from either company.
I am not recommending you buy Curis, but when an old dog learns a new trick that enables it to keep entertaining us, it may be worth a look.
Disclosure: At present, I do not own any Curis shares.