I'd be lying if I said I was not just a little bit nervous putting this information out there, as I don't want my actions to be taken as long term bearish sentiment. I'd also feel like I was not being honest if I kept it from my readers.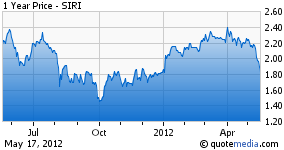 On May 17th, 2012, near market open, I liquidated my entire position in Sirius XM (NASDAQ:SIRI). The price of sale? Between $1.94 and $1.95. I also liquidated my Sirius XM June $2 calls for what was a very large loss. As of now, I am 100% in cash.
Before you grab the pitchforks and torches and start running my name through Google (NASDAQ:GOOG), take a moment and read through to the end.
Over the weekend I did a great deal of thinking and researching on Sirius XM, Liberty Media (LMCA) and most importantly, the $1.875 convertible bonds. I wrote an article on this, and the article spanned 12 full pages. The condensed version is what you saw if you read my article released by Seeking Alpha on Monday titled: "Why Sirius XM's $1.875 Convertible Bonds Will Be Exchanged."
I wasn't sure whether or not I would have the guts to sell and go with my conviction here until today. I'm not much of a trader, especially with Sirius XM. I've been more of a buy and hold type of guy. That said, too many times in the past I have watched opportunity staring me in the face. I've stared right back afraid to make a move for fear of losing out on potential upside when in my mind, it was painfully obvious the stock was going down. In noticing that UBS AG (NYSE:UBS) had suddenly taken a large stake in Sirius XM in the first quarter, and recognizing them as one of the original writers of the bonds in question, I felt much stronger about my previously conveyed ideas. So this morning I devised a plan based upon my expectations in Monday's article, as well as a possible escape plan if I was wrong.
The plan was to watch the opening price. If the price dipped at all beyond the open, and if the markets were down, I'd sell. It didn't matter what the price was. On selling, I then immediately set conditions for a buy if the price went over the $2 mark again. I'd take my lumps on a bad call and pout a little bit. It never did, so my other conditions now came into play.
With a $1.95 sale price I now have a conditional order that if or when the share price hits $1.94, I'll buy my shares back for a wash. If it hits this price before $1.47, I'll have been wrong, but not lost any money in the process. I also have a buy order at $1.47 for double the value which I previously held in Sirius XM, and I may entertain purchase of $1 January 2013 call options if the share price reaches $1.47 as well. Obviously if it drops to $1.47 and appreciates, I will have made a good call.
For those of you still out for blood. Read carefully. If it goes up, I'm right back in. If it goes down, I'm in double. Nothing has changed my perspective of Sirius XM as a company. I still have a fair value of $2.75 on the stock, and I still see a possibility of appreciation to $3 per share after Liberty crosses the 50% ownership mark and there is a change of control.
For those seeking an explanation, please read Monday's article first, and then the article about UBS' purchase of Sirius XM shares. My reasoning is quite simple. I feel that the share price is being driven down and I feel that the reason for this is the clause within the $1.875 bonds which essentially pays a "bonus" on a change of control at Sirius XM. Let's look at the facts :
Liberty Media has made several moves from share purchases to FCC filings, that show they intend to move to control of Sirius XM.
The bond documents state that there is a maximum benefit to a bond holder when Sirius XM is at $1.50 or less on a change of control within the company. This technical "bonus" is 133 shares over and above the 533 shares underlying each bond.
Because of this, I fully expect that the bond holders will do everything in their power to make sure that the stock is at or below $1.50 on the day Liberty Media announces it has taken its stake to 50% or greater. When you consider it from the point of view of a bond holder, it is certainly worthwhile to short the stock down as low as possible. 20% of the original $550 million in bonds is $110 million. When you consider these are paid in shares, the shares may be held aside and as the short used to push the stock down to $1.50 is covered, they appreciate in value. If the stock moves to $3, which I feel is not unreasonable, those extra shares are now worth double, or $220 million. This is a 40% increase for the bond holders simply by shorting the price low so that it sits at $1.50 on the day of change of control.
$220 million is too much money to pass up. Even the minimum $110 million is too much to pass up.
My thoughts and views on the future of Sirius XM this year remain intact. Nothing has changed in that regard. I'm still extremely bullish on the stock, and even more so at these price levels. But I see a huge opportunity here, very similar to the one that presented itself last year in October. I expect this move to be quick, and I expect a return to higher share price levels under Liberty's control.
Disclosure: I have no positions in any stocks mentioned, but may initiate a long position in SIRI, LMCA over the next 72 hours.I may initiate a long position in January 2013 $1 SIRI calls.