China Digital TV (STV) is the leading provider of smart cards to the booming digital TV market in china. China Digital TV holds 44% market share in China, and already delivered 12 Million smart cards nation-wide.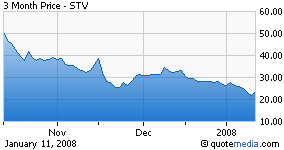 Digital TV household penetration in China is only 3.5%, compared with 76% in the UK and 56% in the US, so you can see the potential for growth here is pretty huge. In 2006 there were only 13 million households in China connected with digital TV. this number is expected to grow to 46 M households by 2009, and to 111 by 2011. The Chinese government has a target to digitalize all TV programs by 2015 to reach 250 millin households.
In 2010, smart-cards shipments are expected to reach 45 M. considering China Digital TV's stake of 44% at present, bring us to an estimated revenue of $150 M, and a net income of more than $90 M, based on Q3 margins.
The company's net income has increased rapidly: it was $4.5m in 2005, $13m in 2006, and expected to be more than $25m in 2007 (expecting at least $51.5 in revenues).
As of yesterday's closing price of $21.89, the company's market cap is $1.2b, which gives it a P/E of around 48 for 2007. Since the company's growth rate is more than 100% YoY, that actually appears like a pretty low P/E. Analysts expect the company to bring in $0.84 in net income per share in 2008, means P/E of 26.
I therefore believe China Digital TV can be a rewarding investment for the next 3 to 5 years.
Disclosure: Long STV