I have owned and followed American Express (NYSE:AXP) for many years. In that time, I think the only time I purchased it this century was just after 9-11-01. It is rarely cheap, because it is a great business and a great franchise and everyone knows it. You need some serious fear to get this company on the cheap. 9-11 provided one such opportunity, when it plunged for a very short time to $24.20 per share.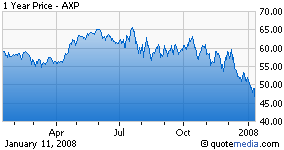 I thought Thursday morning was a great opportunity when AXP dropped on Capital One's announcement. Remember that COF has a banking arm and is directly exposed to the mortgage mess. It also has a much less affluent client base than AXP, lower average FICO scores, and its balances revolve, whereas most of AXP's balances require monthly payment. In other words, AXP has a "spend-centric" model where they earn the majority of their revenue from the so-called discount fees earned each time a customer buys something with their card. Loan interest is a secondary revenue stream.
So I bought some AXP for some managed portfolios, and watched the stock climb the rest of the day. Then the 4pm press release hit that indicated AXP expected a weaker 2008 due to reduced consumer spending and more write offs. Great timing on my part, but in a few years or less it won't matter much in my opinion. I bought some more Friday morning as the market knocked another 10% off the stock, even though AXP still sees double digit topline growth in '08.
Let's compare AXP's current valuation to that immediately after 9-11. A major concern then was that AXP was leveraged to the travel industry, but it is far less so today. AXP had earned about $2 the year before, and earned about $2 the year after. So it bottomed at a little over 12-13x earnings. Today, at $44, and assuming '07 earnings of about $3.40 and '08 earnings of $3.50 or a bit more (earnings comparisons in '08 are affected by some one-time items in '07, so growth looks lower than it is), it valuation right back at post 9-11, sub-13x levels.
AXP is a fantastic worldwide franchise that would be impossible to replicate. It will benefit from increasing global affluence. It has growth prospects and returns on equity far better than the market. I think this one should be bought and put away for the long term. As usual, it could go lower in the near term, but for longer term investors, it is a rare opportunity indeed.
One final point: You don't have to take my word for it. Just look at who holds AXP in their portfolios - it is a veritable rogue's gallery of the best investors on the planet: Buffett, Greenblat, Davis, Eveillard, Olstein, Ruane Cuniff, Dodge & Cox, Gayner. Joel Greenblat, arguably one the finest value investors ever whose hedge fund has averaged 40% annually for more than 20 years (achieved not with smoke and mirrors, but with good old fashioned stock picking), and author of the must-read "The Little Book That Beats the Market", had 16%(!) of his multi-billion dollar portfolio invested in AXP as of his September filing. So - who to side with here - a bunch of scared sheep (the market) or the best investors of all time?
Tough choice...
Disclosure: Author is long AXP