Telecom companies have been viewed at times as providers of necessities such as household and business land line service. In the past two decades, companies in the telecom sector have provided internet, broadband, wireless, cable and lately video streaming and cloud computing. Wireless, broadband and content streaming have moved from being viewed as a luxury to being a necessity. Recently, cloud computing, high resolution streaming, phone applications and mobile payment systems are providing new areas of growth for telecom operators. Telecom companies have become a harbinger of recovery and a key utility in driving consumer and business demand.
The biggest driver for growth comes from the technological advances, product upgrade and innovation by industry players. Growing demand for ever changing products and services has buoyed the industry during the economic downturn. New service areas brought about by mobile broadband technology offer the potential for huge growth into areas of Internet Protocol Television, cloud computing, videoconferencing and mobile payment. The U.S. is slated to hold the largest market share of this industry which will be $1.8 to $2 trillion in the next three years.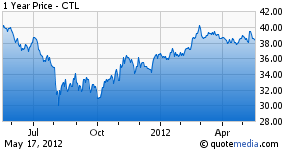 Advances in technologies that drive the services and innovation in transmission and hardware have moved at light speed in the telecom industry. These advances have seen the larger, well capitalized telecom companies like AT&T (NYSE:T), Verizon (NYSE:VZ), and CenturyLink (NYSE:CTL) dominate the domestic national market and continue to capture market share, even in an environment of diminishing usage of traditional land lines for home and business use. These developments also help equipment manufacturers, infrastructure,and mobile phone makers making the telecom industry one of the major components of growth in the economy. These companies dominate because of the ability to make capital expenditures to improve product and delivery services for individual consumers and to provide cost efficient business services and cloud computing.
Increasing competition is making every operator offer bundled and varied services. The future will probably bring deals for sharing of services, capacity and delivery between telecom, cable and satellite TV operators. Dish Network (NASDAQ:DISH) has declared that it is either looking for a deal to be acquired or to be an acquirer. The U.S. industry will see M&A activity among the smaller carriers and specialty carriers like MetroPCS (PCS), Leap Wireless (LEAP) to achieve better pricing and market penetration. Companies such as Frontier Communications (NYSE:FTR), who have struggled to contain debt and provide service to wireless and business customers is probably being looked at as an acquisition by another regional carrier. Windstream (NASDAQ:WIN) may be a likely suitor for this company as it may for many of the regional carriers in the U.S.
CenturyLink trades around $38, between a 52-week range of $31.16 and $43.49. It has a price earnings multiple of 42.31, earnings per share of $0.91 and a dividend yield of 7.60%. CenturyLink has total cash of $1.53 billion and total debt of $22.87 billion. Its book value per share is $33.38.
CenturyLink reported operating revenues in line with guidance of $4.61 billion in the first quarter of 2012. The annual revenue decline rate decreased to 2.7% in the quarter compared to 3.2% decreases in the same period last year. The company also showed improved land line loss trend with a decline of 6.4% annual decline compared to 7.6% annual decline in the first quarter of 2011. CenturyLink reduced access line loss by 20% compared to 6% in the same period of 2011.
CenturyLink added in excess of 89,000 high speed Internet customers at the end of the first quarter, a 4.2% growth from the first quarter of 2011. Prism TV subscribers grew by over 20% from the fourth quarter of 2011, which increased market penetration by more than 8%. Earnings per share were $0.68 in the quarter compared to $0.55 in the fourth quarter of 2011 and $0.78 in the first quarter of 2011. CenturyLink provided a raised target for operational expenses for the Qwest acquisition to $650 million from $575 million.
The company generated recurring revenue growth in the Business Markets Group and Savvis operating group. Operating revenues were $1.70 billion in the first quarter of 2012 compared to $4.61 billion in the first quarter 2011. Declines in operating revenues in the first quarter 2012 compared to the first quarter 2011 were as a result of declines in legacy revenues, which offset the increase in the revenues gained from the acquisition of Qwest and the operation of Savvis. Operating expenses increased to $3.87 billion from $1.20 billion in Q1 2011 as a result of operating costs associated with the Qwest and Savvis acquisitions.
A defining component in U.S. telecommunications is the scarcity of spectrum which creates a barrier to entry. U.S. market is controlled by four players national, AT&T, Verizon, CenturyLink, Sprint Nextel (NYSE:S). Regional carriers cannot compete with these players. A potential carrier has to receive government permission to transmit voice, data and video on public spectrum. Spectrum licenses are restricted and expensive. Network infrastructure for both wireless and wire-line requires extensive capital expenditures which creates a substantial barrier to entry. The four largest have the capacity to acquire spectrum that becomes available and to make the expenditures necessary to service consumers.
A report by Deloitte Touche finds that key issues facing the telecom sector in 2012 are the rapid growth of wireless, the relative slow growth of service for wireless and the capital expenditures needed to accommodate higher traffic volumes. Carriers in the U.S. face the lack of available spectrum, resulting in large expenditures on upgrades to accommodate the capacity of new and improved standards of wireless communications.
The U.S. Congress has approved an auction of a round of new spectrum for the wireless industry. This new spectrum will provide better mobile service for tens of millions of consumers. The new spectrum will come from auctioning unused wireless spectrum currently owned by television broadcasters. The broadcasters will receive proceeds from the auction of $2 billion.
The capacity offered by this auction will provide a great growth platform for telecoms to service the expanding platforms. Smartphones and tablets are taking over market share from mobile handset phones. The growth in the smartphone market continues at a rapid pace mainly from iPhone, iPad and Samsung (OTC:SSNLF) Galaxy tablet and smartphone sales. All of these devices need very high speed network infrastructures. The content can be downloaded to smartphones and tablets will only continue to increase. Video may account for 60% of network traffic by the end of 2012. The four majors will be competing for the available spectrum.
CenturyLink will make the best use of spectrum as it has already started to see an upswing in its Prism TV and high speed internet. With increased capacity, it will be able to better focus on data and content streaming. It will continue to see revenue growth from its Savvis acquisition. In being able to provide more and better service through expanded capacity, CenturyLink will be better able to retain customers and further compensate for future land line losses.
CenturyLink is trading near its book value and has good control over its debt. It has the ability to compete in the acquisition space and its focus is concentrated on the major growth areas of cloud and business services and data and content streaming. It pays an excellent dividend and has a large retail shareholder base. Value investors who are looking for a utility and can handle a little volatility should invest in this company.
Disclosure: I have no positions in any stocks mentioned, and no plans to initiate any positions within the next 72 hours.