While the Middle East conjures images of oil exploration, Islamic governments and eternal war situations, the Eastern Mediterranean region evokes positive feelings thanks to popular seaside resorts, ancient Biblical towns and relative peace. However, all that is only on the surface. If you scratch this seemingly rosy surface, the tensions between countries in the region are more than evident. Greece, Cyprus, Turkey, Israel and Lebanon are all at loggerheads with each other over military, political and strategic issues.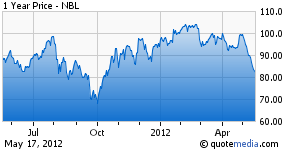 Two issues that continue to haunt the region are the dispute over Cyprus between Greece and Turkey, and the tensions between Israel and Lebanon. Apart from these two issues, the Greek economic crisis isn't doing much to improve the image of the region either. Noble Energy (NYSE:NBL) recently helped Israel discover its biggest gas reserves in the Leviathan and Tamar fields. The fields are believed to hold about 30 trillion cubic feet of gas. The region holds enough gas to supply world demands for a year and is worth about $670 billion. In fact, Noble may have helped to change the economic scene in the Mediterranean.
Israel may have a lot to celebrate, but only until it realizes that some of these fields may fall into Lebanese maritime territories as well. To make things more complex, Israel and Lebanon do not have clear and mutually agreed upon maritime borders. With a volatile relationship amongst the two Mediterranean countries, amplified by the presence of Hezbollah who are funded and supported by Iran, things get not only confusing but very scary as well. In fact, these oil fields are enough to provoke a full-fledged war between Israel and Lebanon, though neither country is in a position to go to war at the moment.
Noble had discovered huge oil reserves off the coast of Cyprus in the 12th block of the Exclusive Economic Zone. Dubbed 'Aphrodite', these natural gas deposits consist of 991 billion cubic meters. The Greek Cypriot government is working with Israel to connect each others' oil fields through a pipeline that runs across 300 miles. Noble is central to these treaties and so far, the American gas company has done well in terms of negotiating with Israeli and Cypriot authorities. What may turn out to be a festering issue is that of Northern Cyprus, which is controlled by Turkey and also the Lebanese issue of maritime borders with Israel. Turkey is a stable nation with good governance and can be trusted not to impinge trade treaties that already exist amongst its neighbors. However, the territorial claims between Turkey and Cyprus will invariably affect Israel's plans to monetize on its newly found gas reserves, thanks to Noble.
Noble is not the only company that has landed with natural gas deals in the region. Its competitor Exxon Mobil (NYSE:XOM) is working with the Turkish government to tap technically recoverable shale gas, which amounts to 15 trillion cubic feet. Considering how bitter the relationship with Turkey and Cyprus is, Noble and Exxon may have to endure reflected rivalry as well. BP (NYSE:BP) isn't far behind either, as it recently announced a $25 billion project that will bring gas from Azerbaijan reserves to mainland Europe and Turkey.
The E.U. has been a driving force behind this proposed pipeline, which will eventually connect Europe with Central Asia. With so many volatile regions being involved in these gas deals, an investor should be really wary about stock that may easily be influenced by governments that can't be trusted easily. At the moment, I feel any deal that is struck with the Israeli government is good enough to be vouched for. Israel is not only the most stable and the only democratic nation in the region, it is also one of the only countries in the region with a strong economy. That can't really be said about Cyprus, but thanks to its association with Israel, Cypriot gas exploration ventures may be good investment options as well.
The only company that I feel will be of significant competition to Noble is Chevron (NYSE:CVX). Chevron signed an agreement with Japan's Tohoku Electric and will sell a million tons of natural gas in the next 20 years. The gas will be procured from its Wheatstone plant in Australia. ATP Oil & Gas (ATPG), Royal Dutch Shell (NYSE:RDS.A) and ConocoPhillips (NYSE:COP) are other entities that compete with Noble in the Mediterranean. It is an interesting interplay of business, military, political and strategic rivalries.
If you notice, the gas companies have agreements with countries that are vested against each other. While Exxon has warmed up to Turkey, BP seems to be more comfortable with Azeri oil reserves in the Caspian Sea. Noble meanwhile has struck gold in the Mediterranean between the shores of Israel and Cyprus. Oil competition may eventually be influenced by political, military and domestic issues in these countries, and rivalries between these countries will spill over to these competing companies in the end.
Obviously, all these complex factors will affect each company's stock and as an investor one needs to be guarded and well aware of current affairs in the region. On the other hand, I do believe there are no losers in the Mediterranean region unlike the Gulf nations where the threat of war is more imminent. As for Noble, they seem to have the safest little corner in the Mediterranean thanks to the bullish Netanyahu government in Israel.
Noble's agreements with both Cyprus and Israel will be relatively stable, as the countries are safeguarded by stable governments. Though Cyprus has its own territorial disputes with Turkey, I doubt it will affect Noble as long as it limits its gas exploration activities to Greek Cypriot maritime territories. It might probably be a good idea to follow Cypriot and Israeli domestic and military issues with their neighbors, Turkey and Lebanon respectively. As long as Israel remains relatively stable, there is nothing to fear about Noble's stock.
Disclosure: I have no positions in any stocks mentioned, and no plans to initiate any positions within the next 72 hours.