Welcome to Apple (NASDAQ:AAPL) hell.
The stock has gotten pummeled, dropping over 100 points since its April $644 high. Awful and painful, but nothing new as I've explained before. Apple pain happens every year. Sometimes the stock gets mired in a hopeless malaise. Sometimes it craters. It's always brutal either on a point basis or a time basis or both. It can last two months or nine. It happens every year. Different reasons, same miserable tape. Everyone remembers Apple's fabulous climbs and everyone knows about this recent share price collapse, but very few recall the annual bruising Apple takes each year on a regular basis.
This isn't a stock that has a perfect trajectory. Not by a long shot. For that, think Monster (NASDAQ:MNST), a stock that has had a perfect 2-year-run.
Instead, with Apple, you get sickening declines. Witness the 2005 stellar Apple run from $35 to $85 in 8 months, followed by a 6 month 42% decline. That decline followed a sensational quarter. Yet, the market believed Apple had nothing left to offer the consumer. Apple was caput, relegated to the dustbin. (Who knows maybe it was deserved? Apple relied on only 2 products -- the iPod and notebook -- dangerous beyond words.)
And yet, you've got to look on the bright side. Every time, the market has written Apple off (and it happens every friggin' year), the stock silences its bears with outrageous gains.
The market just flashed a buy signal
For what it's worth, the market gave Apple investors a momentous buy signal: The Relative Strength Index (RSI) for the stock dropped to 30. Last year, that was the biggest Apple trading event of the year: It marked the very bottom for the stock. Apple rose 35% over the next 4 months. The 30 RSI marked the absolute low for 2011, something I prophesied would happen.
The reasoning: The RSI has only touched 30 seven other times since January 2003. In six out of those seven, the 30 RSI signaled massive runs in Apple. Even when the RSI barely touched 30, Apple experience powerful moves higher.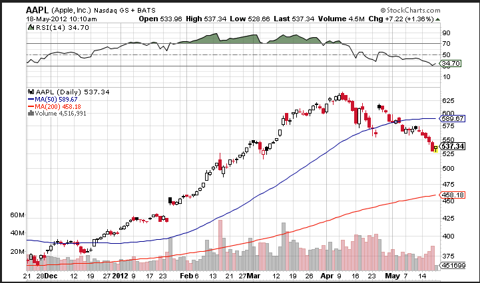 To review Apple's history following hitting 30 RSI:
1. April 11, 2003: Apple doubled in six months.
2. April 13, 2005: The stock rose from $34 to $85 in eight months in a steady climb.
3. March 27, 2006: Apple climbed from $58 to $70 in five weeks.
4. July 18, 2006: Apple moved from $54 to $191 in 17 months in what was a remarkable almost straight run up.
5. January 24, 2008: Shares increased from $127 to $190 in four months.
6. September 11, 2008: Only here did Apple tumble after hitting an RSI of 30. That was during the depths of the crash, and everything from stocks to bonds collapsed.
7. June 20, 2011: Apple went from $310 to $420 in 4 months.
Six out of seven times Apple has charged higher after reaching a 30 RSI. The odds of that happening again look mouth-watering. Apple's lowly RSI indicates the stock is grossly oversold.
The fundamentals
Apple trades at an undervalued 12.9 PE, well-below the S&P 500's 14 PE. Yet, the company has demonstrated enormous growth. Last quarter, EPS were 92% higher; revenue increased 59%. Has lost its innovative juice? Note what board member Mickey Drexler had to say about upcoming iProducts:
"You know, Apple has 10 products," he said. "The living room they're dealing with at some point in the near future."
Apple is nowhere near done.
I'll temper your enthusiasm: We're only into week 6 of Apple hell. Usually, the misery lasts 4 to 6 months. Still, the RSI indicator is flashing. It's time to start getting more optimistic. We've still have a way to go lower, but we are entering oversold territory. Apple has gotten cheaper. Now that the RSI hit 30, history is on the shareholder's side.
Disclosure: I am long AAPL.
Additional disclosure: Disclaimer: The opinions in this document are for informational and educational purposes only and should not be construed as a recommendation to buy or sell the stocks mentioned. Past performance of the companies discussed may not continue and the companies may not achieve the earnings growth as predicted. The information in this document is believed to be accurate, but under no circumstances should a person act upon the information contained within. We do not recommend that anyone act upon any investment information without first consulting an investment advisor as to the suitability of such investments for his specific situation.