Let me start out by saying I'm writing this on a Windows PC. I like Windows 7. I liked the one Windows phone I tried out awhile back. My department at work uses Windows Servers and the Microsoft SQL Server and we are happy with them. So I like Microsoft (NASDAQ:MSFT) products in general. As a software developer, I have found no better tools for development than Microsoft's.
However, I think Microsoft has a problem. It is trying to be everything to everyone. The problem is not that it is doing it badly. The problem is that it is too slow at recognizing opportunities and then ends up throwing money and resources at things in order to attempt to compete. Sometimes the company succeeds (Xbox). Sometimes it fails (Silverlight, Zune). For some products, the future profitability is unknown (Bing, Cloud, Windows Phone).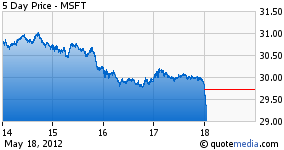 Times are changing as competitors are now bigger than ever in the form of Apple (NASDAQ:AAPL), Google (NASDAQ:GOOG) and Amazon (NASDAQ:AMZN). Apple began its new success by designing one product to be better than the competition: the iPod. That led to the iPhone and the iPad and the halo effect on sales of Macs. Google started out doing one thing well: search. Amazon started out doing one thing well: being an online store. The infrastructure it created helped it create cloud services.
Back to the Microsoft problem. It wants to compete with Apple in mobile devices; Google in search and mobile; Oracle (NYSE:ORCL) and IBM (NYSE:IBM) in databases; Sony (NYSE:SNE) and Nintendo in game consoles; and Amazon, Google and others in cloud services. Can Microsoft do it all? Especially in these modern times when throwing money at things may not work because competitors only need to throw money at their specific products, unlike Microsoft, which now needs to invest in everything.
The obvious next question is: Does it really need to do it all? Unfortunately, with the position Microsoft is in, it really has to do it all to grow in any meaningful way. PCs are dying. We are getting closer and closer to a time when the PC is becoming mainly a tool to access the Internet. And that is what requires Microsoft to play in all the relevant areas of accessing the Internet and being at the other end in server software and the cloud.
So what do I think of Microsoft as an investment, and what is my opinion on whether its strategies will pan out? I'm positive on its prospects. Let's look at some of the highlights.
The new Windows Phone operating system has generally received great reviews. It runs very smoothly even on aging hardware. Also, the new Nokia (NYSE:NOK) partnership is likely to show promise. Nokia makes great hardware, and paired with the nice Windows Phone OS it might just have what it takes to be a third player in the mobile space along with Apple and Samsung (OTC:SSNLF).
Microsoft makes a lot of money. Its Windows, server and business (Microsoft Office, etc.) segments are all growing and making more money. The server business in particular is growing quickly (14% revenue and 29% earnings growth), as Microsoft has made serious improvements to server operating systems, virtualization, databases, etc. The SQL Server is finally serious competition to Oracle and IBM. HyperV is also now good competition to VMware (NYSE:VMW). And all at very competitive pricing.
With the launch of Windows 8, Microsoft will finally have a decent unified experience for tablets, desktops and phones. I expect similar small to no growth from the Windows side until Windows 8 launches and the holiday season arrives.
The online service division is where Microsoft needs to make most improvement. It did post a narrower loss and expects to improve, but my personal opinion is that this is where it needs to make the most improvement. All of Microsoft's online services are lacking in some way. I recently checked out Hotmail, Office Live, etc., and they are still not as good as Google's services -- although they do offer some nice features.
"Devices" were lumped in together with entertainment, and that division posted a loss thanks to declining Xbox revenue and possibly related to helping the Nokia and Windows phone. However, Microsoft also made free revenue from Android manufacturers, which I expect to keep growing. Plus, the new $99 Xbox with a two-year contract is bound to increase Xbox sales.
Microsoft is making some long-term strategic investments other than with Nokia, such as with the Barnes & Noble (NYSE:BKS) Nook. So I think the Microsoft problem might just work out for the company in the long term. The growing dividend is just a plus. I might open a position if the stock falls to the mid-$20s.
Disclosure: I am long AAPL, GOOG, NOK. I may initiate a long position in MSFT over the next 72 hours.