Daimler AG (OTCPK:DDAIF) is a German luxury car and truck manufacturer, including the well-known Mercedes-Benz brand and the Freightliner trucks brand. The company's founders, Gottlieb Daimler and Carl Benz, made history with the invention of the automobile in the year 1886. Its closest peers are other German premium carmakers, such as BMW (BAMXY.PK) and Volkswagen (OTCPK:VLKAY).
Daimler's market capitalization is around €40bn ($50.8bn) and the free float is above 80%. The main shareholders are Kuwait Investment Authority, which have a 6.9% equity stake, and Renault (OTC:RNSDF)-Nissan (OTCPK:NSANF) Alliance, which holds 3.1% of capital. Aabar Investments (from Abu Dhabi) was Daimler's biggest shareholder after injected almost €2bn ($2.5bn) in 2009, but has been recently reducing its stake and there is speculation that it wants to dispose it entirely.
Daimler's stock price is up 9% since the beginning of 2012, but has underperformed its peers over the last year. Daimler's share tumbled 21% since May 2011, a worse performance than VW 6% appreciation or BMW's 4% rise.
Source: YahooFinance
Company Overview
With its divisions Mercedes-Benz Cars, Daimler Trucks, Mercedes-Benz Vans, Daimler Buses and Daimler Financial Services, the Daimler Group is one of the biggest producers of premium cars and the world's biggest manufacturer of commercial vehicles with a global reach. Its main divisions are Mercedes and Trucks which represented, respectively, 51.3% and 25.7% of sales in 2011. The vans and buses are smaller divisions and have below group's average margins.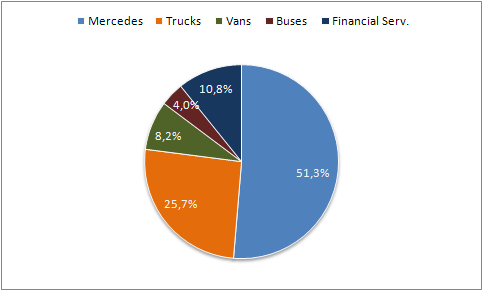 Source: Daimler
Geographically, Daimler is mainly exposed to the United States (20.8% of sales in 2011), Germany (18.5%), Rest of Europe (18.4%) and China (10.4%). The rest of Europe (ex-Germany) is the main drag to sales growth in 2012 in view of the weak macroeconomic outlook especially for southern countries.
Has a global company, Daimler is affected by global auto markets trends. For 2012, Daimler expects above-average growth rates in the emerging markets and in North America. In Europe, new car registrations fell 7.1% in the first fourth months of 2012, with Germany and the UK being the exception with a slight increase on sales.
Strategy
Through its "Mercedes-Benz 2020" growth strategy Mercedes strives to occupy the leading among luxury car makers. The targets are for 1.6 million cars sold in 2015 (more than 1.38 million in 2011) and be the leading worldwide premium manufacturer in the year 2020. Daimler aim to achieve these goals through an extended model range, increased efficiency and competitiveness, grow in new markets and leading new "green" technologies.
Mercedes wants to increase its product range by at least 10 additional model series by 2015. For the premium compact-car segment, it expects to reach five models targeting younger costumer groups instead of only two models (A-Class and B-Class) currently offered. It opened at the end of March a new plant in Hungary to increase production capacity for compact-cars. This will decrease production costs for these models, because labor costs are lower in Hungary compared to Germany.
Additionally, the modular manufacturing strategy is expected to deliver material benefits, in particular with the next generation C-class estimated to be launch in 2014. Next models generations should increasingly benefit from the implementation of modular strategies which allow time and cost reductions thanks to component sharing. This strategy is an important step to fill Mercedes profitability gap to its peers over the coming years.
Product Range
Within the automotive industry, one major factor for car makers' sales growth is the car's life cycle. Typically, products reach higher sales following launch and decline has the model matures, around 4-5 years old.
Compared to BMW and Audi, Daimler has an aging product cycle but a lot of new models are expected to be launch in the next three years. However, for 2012 Daimler has less scope for sales growth than its closest peers. This is especially evident for sales of its most important model (C-Class which represents close to 30% of Mercedes sales) that should suffer from BMW's new 3-Series launched last February.
Mercedes recently launched the new B-class and the A-Class is expected to follow this September, but these products only represented 14% of units' sales in 2011. Within SUV's, that have a weight of 18% in sales, Mercedes launched recently the M-Class and will release the GLK over the following months. The new Actros, the flagship and most important new product to be launched this decade, should power sales at Daimler Trucks in 2012 and beyond.
Profitability
Daimler is one of the world's most profitable car makers due to its exposure to luxury markets. It has an EBIT margin at mid-single digit, on average, throughout the business cycle and a high free cash flow generation capacity. In 2011, Daimler generated revenue of €106bn ($135bn) an increase of 9% from 2010, and EBIT of €8.8bn (margin of 8.98%). Since 2006, only in 2009 the margin was negative (1-%) mainly due to the trucks division.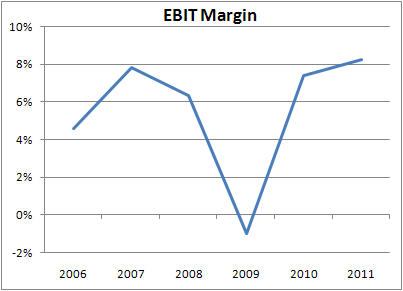 Source: Daimler
Regarding recent results, Daimler reported at the end of April strong 2012 first quarter results with unit sales up by 9% to more than half a million vehicles delivered, net profit up by 20% to €1.41bn ($1.8bn) and earnings per share rose 26% to €1.25 ($1.59) from €0.99 ($1.26) in the first quarter of 2011. On the other hand, the free cash flow of industrial business was a negative €2bn ($2.54bn) due to seasonal development of working capital and to increased inventories, which Daimler expects to revert in the next quarters.
Daimler guided to flat group EBIT in 2012, which was a statement of confidence in end markets and was also supported from forex tailwinds due to the recent USD appreciation. In Q1 Mercedes margin was 8.4%, significantly below the 9.3% reached in the first quarter of 2011, affected by weaker pricing in China that Daimler sees as temporary. If the economic slow down in China increases over the following months Daimler's guidance can be optimistic.
Over the recent years Mercedes has opened a margin gap versus its closest peer BMW. In 2011, Mercedes reached a margin of 9% against an 11.8% EBIT margin at BMW, and also lagged against Audi (12.1% margin). Going forward, it has a target of 10% operating margin over the cycle at Mercedes which intend to achieve in 2013, helped by the new S-class expected to be launched that year. It expects to achieve this profitability improvement by means of project-related cooperation, such as with Renault/Nissan, as well as through savings achieved from the module and platform strategies.
For Daimler Trucks it has an EBIT margin target of 8% in 2013. This target looks ambitious in view that the truck business is a capital goods business and therefore subject to cyclical fluctuations, making it especially vulnerable to a global economic slowdown. Last year's EBIT margin was 6.5% increasing from the 5% reached in 2010. Over the last years the highest margin was 7.5% achieved in 2007. The new Actros truck is an important product offensive to reach the 8% target.
Balance Sheet and Financial Stakes
Daimler's balance sheet is very strong with more than €10bn ($12.7bn) industrial net cash at the end of March. On the other hand, the pension funds deficit is around €6.5bn ($8.3bn) and last year the contributions resulted on a cash outflow of €2bn ($2.54bn). Net debt at group level is around €50bn ($63.5bn) which primarily results from the leasing and sales financing business. The financial services business account for around half of the Daimler Group's balance sheet total.
Daimler has several equity stakes because of joint-ventures and collaboration with other industry players. This can had more volatility to Daimler's shares than peers (BMW and VW) because these stakes are listed and can result on impairments due to stock market volatility. Daimler's financial stakes are: 50% in Tognum (OTC:TGNMF); 3.1% in Nissan and Renault; 5% in Tesla Motors (NASDAQ:TSLA); and 15% in Russian Kamaz. At current market values, these stakes are worth around €5bn ($6.35bn) or 12.5% of Daimler's market capitalization.
Dividend
The automotive sector is cyclical and usually car makers don't have high shareholder remuneration. During recessions car makers' earnings can swing from profits to losses on a very short period. Although Daimler is less sensitive to economic cycles due to its Mercedes brand premium status, the truck division is dependent on clients' business expenditures which are naturally sensitive to economic activity.
The company is committed to a future payout ratio of 40% of the net profit. Historically, the company maintains dividends at a stable payout ratio (between 40-50%) but on downturns adapts rapidly. In 2008 lowered significantly the dividend payment to €0.60 ($0.79) and in 2009 didn't paid any dividend. In 2010, Daimler's dividend was restored at a similar level to 2006-07. At current price Daimler's shares offer a very attractive yield of 5.9% based on 2011 dividend per share of €2.20 ($2.8). This yield is among the highest in the sector, surpassing BMW's 3.7% yield, VW's 2.5%, Ford's (NYSE:F) 2% of Toyota's (NYSE:TM) 1.65% yield.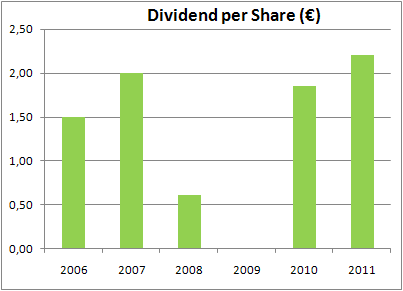 Source: Daimler
Conclusion
Daimler's shares are a bargain trading at 7x forward P/E ratio way below its historical average of 10-12x forward ratio, a multiple more common to mass market car makers such as Renault or Fiat (FIATY.PK) than for a premium manufacturer such as Daimler.
Daimler should continue to show strong earnings due to its growth strategy and the new models to be launched. Similar to its competitors, the main risk is a hard landing of China's economic growth where premium car makers enjoy higher margins than in traditional markets. The best yield within the sector also provides support for Daimler's shares. Although Daimler offers value in the medium-term a rebound can be hard over the next months given the current European debt woes.
Disclosure: I have no positions in any stocks mentioned, and no plans to initiate any positions within the next 72 hours.