Natural gas exploration is a risky activity both in terms of environmental and technical factors. There is always the risk of an oil spill or of a failed drilling activity. However, oil companies have always forged ahead and continued to explore oil and gas in spite of all the risks that are involved. The biggest risks are environmental disasters that happen because of oil spills or accidents. Waste water from drilling may contain traces of oil that contaminate oceans and seas.
With that in mind, it is very important for oil companies to seek newer methods that are environmentally friendly and effective. Traces of oil in produced water can contaminate sea life, which can have a very negative ecological impact. Any oil company that is responsible for such accidents will usually have to answer not only green activists but also countries whose jurisdictions fall upon concerned maritime territories.
Exxon Mobil's (NYSE:XOM) pipeline disaster in Nigeria still haunts environmental activists. Though it was not a drilling fault, and the disaster took on land, thick balls of tar did wash up along the coast. The disaster also killed 100 people and was a huge embarrassment for Exxon Mobil. Shell's (NYSE:RDS.A) exploration plans in the Arctic met with similar apprehensions from green activists. The worst oil spill has to be BP's (NYSE:BP) Deepwater Horizon Disaster in the Gulf of Mexico which has now become an environmental legacy. ConocoPhillips was fined $269 million by the Chinese government for environmental damage caused by ConocoPhillip's (NYSE:COP) well in the Bohai Bay.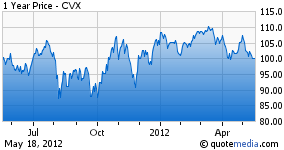 Chevron (NYSE:CVX) recently announced that a special deepwater drillship would be used in the next five years on contract with Pacific Drilling (NYSE:PACD). The ship, Pacific Santa Ana will be used to explore oil in the Gulf of Mexico and is the first ship that can perform dual gradient drilling. Chevron has been working on this technology for a really long time and it had announced in 2009 that it would begin to use this technology in oil exploration in the future. That day seems to have arrived finally. With that in mind, Chevron's new Pacific Santa Ana ship will reassure not only investors but also green activists. Thanks to dual gradient drilling technology, the new ship perhaps is the best way to make sure that the Gulf of Mexico remains clean and safe environmentally. Chevron is also the only company at the moment to be using the dual gradient drilling technology.
Drilling techniques to explore oil reserves have long been studied. While researchers and scholars have maintained that deep sea drilling is safe and clean, there is enough proof to argue that conventional methods of drilling can cause considerable damage to ocean resources. Offshore oil production almost always entails the risk of oil spills and this is mostly because of transportation issues. Oil spills can also be caused due to leaks and accidents, no matter how much an exploration team tries to avoid it.
Conventional methods generate a lot of produced water, which contain varying amounts of oil after being processed. This water is difficult to discard and is an expensive process. Single gradient drilling is by far the most popular method deepwater drilling operation. This method exerts unnecessary pressure on the wellbore and creates technical difficulties. It also generates enormous volumes of mud that may remain inactive. In other words, though conventional drilling methods are used by almost all the oil exploration teams, it has its share of disadvantages and risks. Only, managed pressure drilling may be slightly different and comes with fewer risks than single gradient drilling.
Chevron had begun working on dual-gradient profiles many years ago, and has now announced dual gradient drilling at Pacific Santa Ana for the first time. It is expected to change the way other companies drill deepwater wells as well. Dual-gradient drilling entails two weights of drilling fluid instead of one in conventional methods. One is used above the seabed and the other is used below. This method allows oil exploration teams to avoid water depth as a consideration. Dual-gradient drilling not only makes it quicker to detect and react to pressure changes down-hole, but it also increases environmental and technical safety. As I mentioned before, dual-gradient drilling manages mud in an easier manner than conventional methods. Adoption of dual gradient drilling is enough to place Chevron above other oil exploration companies simply because it is a more advanced method.
Apart from this, the company has recently been in the good books of federal courts as well. A federal judge upheld Chevron's claim that it was subjected to extortion. The $18 billion case can find its way to Ecuador, where the company was falsely accused of contaminating the country's rain forest intentionally. Chevron of course denied that, and the federal court's judgment only proves that the company is strong enough to deal with false allegations. Chevron will also collaborate with its competitors like BP and Total SA (NYSE:TOT) in a joint venture that would help produce LNG in Angola. It would be sold to clients around the world, and the project has been approved by the European Commission as well.
No matter what method Chevron chooses to use in its oil exploration activities in the Gulf of Mexico, the success depends on the amount of oil it finds. Moreover, its innovative technology has already put environmental fears to rest. Natural gas and oil from the Gulf of Mexico is very crucial to the American economy, as it would cut a lot of import duties, and help Chevron to avoid unnecessary costs while exploring offshore. If Chevron manages to strike oil or gas in the Gulf of Mexico, its stock will see a massive boost.
Disclosure: I have no positions in any stocks mentioned, and no plans to initiate any positions within the next 72 hours.