Every time I see that a regional restaurant is going national, I think of Middleby (NASDAQ:MIDD). They sell commercial cooking equipment to fast food restaurants, casual dining restaurants, and other commercial users. They are one of the most well-managed companies that I have seen.
Current management began a turnaround about five years ago by selling off low margin pieces of their business. They focused intensely on their commercial oven business and began to develop innovative new technologies. Soon, the company was generating profits at good margins. These profits were then used to purchase smaller companies that represented a strategic fit for Middleby. Taking advantage of a fragmented market, Middleby would plug each new acquisition into their international distribution and sales infrastructure, streamline operations, and quickly increase margins for the purchased product line.
Earnings have grown rapidly using this strategy, from $18.7 million in 2003 to $42.4 million in 2006. This growth has not been financed by equity. Dilution has been minimal. Most of their acquisitions have been funded by cash flow from operations and debt. Still, debt has not grown to unreasonable levels. Below I will take a look at their historical earnings and try to establish a valuation range based on growth assumptions.
About the Company
Middleby Corporation designs, manufactures, and sells commercial cooking equipment and related products. The company operates in three segments: Commercial Food Service Equipment, Industrial Food Service Equipment, and International Distribution.
The Commercial Food Service Equipment segment manufactures conveyor ovens, convection ovens, fryers, ranges, toasters, combi ovens, steamers, broilers, deck ovens, baking ovens, proofers, and counter-top cooking and warming equipment, as well as breading, battering, mixing, forming, and slicing equipment.
Its customers include fast food or quick-service restaurants; full-service restaurants, including casual-theme restaurants; retail outlets, such as convenience stores, supermarkets, and department stores; and public and private institutions, such as hotels, resorts, schools, hospitals, long-term care facilities, correctional facilities, stadiums, airports, corporate cafeterias, military facilities, and government agencies.
The Industrial Food Service Equipment segment manufactures batch ovens, conveyor ovens, continuous cooking systems, and food packaging equipment, as well as heated cabinets and holding equipment for food processing companies.
The International Distribution segment provides sales, technical service, and distribution services for the commercial food service industry. This segment sells and supports commercial food service equipment products in Asia, Europe, Latin America, China, India, Lebanon, Mexico, the Philippines, Russia, Spain, South Korea, Sweden, Taiwan, and the United Kingdom.
Middleby markets its products and services through sales personnel, international marketing divisions, and subsidiaries, as well as a network of independent dealers, distributors, consultants, sales representatives, and agents. The company was founded in 1888 as Middleby Marshall Oven Company and changed its name to The Middleby Corporation in 1985. Middleby is based in Elgin, Illinois.
The History
The table below demonstrates the revenue and earnings growth that Middleby has achieved over the past three years. More impressive to me is the steady margin improvement despite taking on new acquisitions. Long-term debt has been declining, though the next quarter's balance sheet will look a bit different following the rather large New Star acquisition.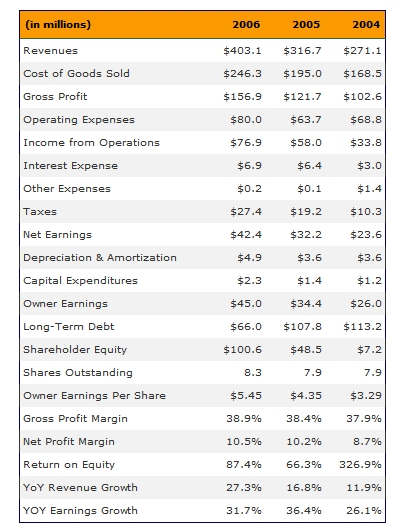 In order to develop a current owner earnings number, I have also compiled a table demonstrating the last four quarters of financials. You can see in this table that margins do fluctuate throughout the year as acquisitions are integrated into the company. This often involves product lines being discontinued so that the company can focus on higher margin products.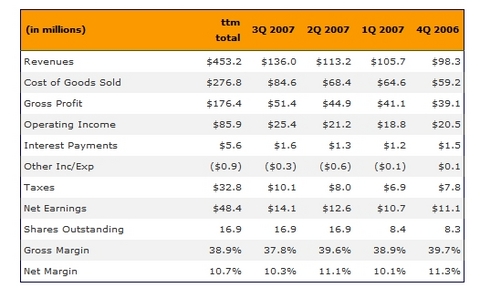 The trailing twelve months earnings are $48.4 million, but looking at 2006 year-end numbers, you can see that capital expenditures are less than depreciation and amortization by $2.6 million. Because of this, I am adjusting the starting owner earnings up by $2.6 million to an even $50 million. Depreciation expense should out pace capital expenditures as goodwill from acquisitions depreciated.
Valuation
My intrinsic value assumptions assume $50 million in starting owner earnings, a reversionary PEG ratio of 1.35, and a 10% discount rate. Much of the growth in Middleby depends on the successful integration of acquisitions. Organic growth is often limited to 8-12%. At times their earnings growth may exceed 20%. The New Star acquisition should limit any new acquisitions, but margins from New Star should drive earnings growth if not revenue growth. Because of this, I have used a 9-21% range of 5-year growth rates in the table below.

Given Middleby's operating history, a 15% growth rate appears reasonable for this company. This results in a value of $94 per share. A 25% discount to this value results in a $70 per share value. There is certainly a risk that acquisitions won't go well in the future or that none are available. Both of these situations would result in slower growth, tending toward a $50 per share value.
Conclusion
There is still a good deal of upside left on Middleby, despite the multi-year advance of its share price. I hold some Middleby outside the Two Roads Diverged Portfolio, though, and will probably not add unless shares decline below $60 per share. I feel pretty strongly about this company, but I do not want to get overweighted in any one particular stock.