Israeli newspapers and the wires were filled with the news that Incredimail, a provider of email solutions (NASDAQ: MAIL) was terminated by Google Adsense. Immediately the stock dropped 30%.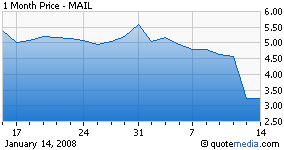 Now, the Street must be aware that there are alternative ad solutions to Google Adsense. Yahoo and many other ad networks have similar programs. Wall Street likely assumes that nobody else will touch Incredimail as a customer if it was an abuse problem. Even if one did, Google's monetization is so dramatically better than all other solutions, it will be hard to make up the lost revenue in any other partnership.
This is analogous in many ways to Answer.com's (NASDAQ:ANSW) over-dependence on Google traffic and likely why Answers went out and looked to buy Dictionary.com. It is all about reducing dependence on Google. (By the way, I wonder what happened to that deal? I seem to recall it was supposed to be consummated by the end of 2007...)
This is the Google ecosystem circa 2008 and it creates quite a paradox. One the one hand it is very easy to generate traffic and revenue. On the other hand, it is both addictive and can be difficult to build a sustainable company when one is so dependent on Google as a revenue and traffic source.