Blue Nile (NASDAQ:NILE) Monday morning announced that fourth quarter revenues were up 24% from a year earlier. The online diamond retailer had revenue of $90.7 million in the year-ago quarter, which suggests revenue came in at $112.47 million; the company had forecast revenue of $109 million to $115 million. The results actually fell a tad short of the Street consensus at $113.86 million.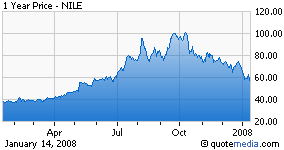 CEO Mark Vadon said in a statement that while Blue Nile had not previously released fourth quarter revenue ahead of earnings, the company felt compelled to do it this time given that "over the past week, a number of large jewelry retailers have reported negative same-store sales results for the holiday season."
The company also said it expects to report "strong profitability" for the quarter. NILE will report full results on February 12.
With investors apparently relieved at the lack of disaster, Blue Nile Monday morning is up $3.29, or 5.8%, at $60.40.