While dependence on oil, coal, and natural gas for energy source remains a harsh reality for the next thirty years, the trillion dollar question on the next viable energy source remains open. Solar energy, as a renewable power source, zero greenhouse emission, lowering cost, presents a viable and strong alternative.
However, the bulls seems to have run ahead of themselves on solar stocks. Stocks like Suntech Power (NYSE:STP) and First Solar (NASDAQ:FSLR) have retreated from their 52 week high but I forsee further correction in solar stocks in the next few months. I find three important reasons why these two solar stocks are overpriced: irrational growth expectations, margin compressions, and technological challenges.
Demands from Germany have fed into revenues for solar companies, FSLR (95% of sales) and STP (45% of sales) in particular. Companies such as SunPower AG (NASDAQ:SPWR) and Conergy AG (CGY) are the biggest customers for STP and FSLR. Both these companies have been beneficiaries of German subsidy programs, which may decline by almost 10% next year. Let us look at some numbers, with $135m in 2006 sales and $300m in YTD 2007 sales, First Solar is currently trading at 43x revenue. With $598m in 2006 sales and $386mm in YTD 2007 sales, SunTech Power is trading at 20x revenue. With all due credits as growth stocks to these companies, can they really pulloff year after year 50-100% growth from Germany alone?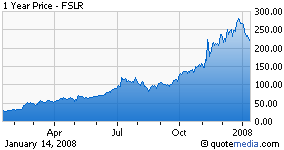 STP and FSLR post gross/net margins of 30/17 % and 40/4 % respectively in 2006. Such attractive gross margins have and would attract many more solar companies into the fray suppressing margins. We have to keep in mind that these companies are produce and integrate modules, where most of the competition in solar has entered and is continuing to enter with improved technology, increased funding from venture capitals and other investors.
Conversion efficiencies of mono/multicrystalline silicon for STP ranges 14-16% while that of cadmium telluride for FSLR close to 10%. These are the lower end technologies and cost efficiencies due to long term supplier contract and non-silicon raw material choices have allowed both STP and FSLR to scale up their operations. CIGS, Polycrystalline Silicon (used by SPWR), and multijunction concentrators provide 2-5 times conversion efficiencies.
Can FSLR and STP improve their technologies and geographic focus? Maybe. In the near future? No, because currently they are focused on selling more of what they have. The U.S, the heavyweight that can provide geographic diversification, is slow to embracing solar for now in terms of federal regulatory support.
Disclosure: none