In more sanguine market environments, there are myriad reasons to consider investing in Australia, the world's thirteenth-largest economy. Known as the land down under, Australia a developed market that is home to one of the more stable systems of government in the world.
But despite that stability and the obvious advantages that come with being a developed market, Australia is also rich in natural resources such as coal, gold and natural gas. That trait coupled with the country's proximity to scores of fast-growing Asian emerging markets makes Australia a developed market play with an emerging markets kicker. A good thing when commodities and emerging markets in style and a bad thing when investors are shelving risk.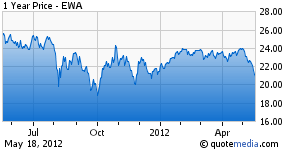 Such is life for the iShares MSCI Australia Index Fund (NYSEARCA:EWA) these days. While financials account for almost 46% of EWA's weight, the $2.4 billion ETF is by no means short on commodities exposure as materials stocks receive an election of almost 24% and energy names land a weight of 6.6%.
Regarding individual stocks, BHP Billiton (NYSE:BHP), the world's largest mining company, is EWA's top holding with a weight of almost 13%. BHP rival Rio Tinto (NYSE:RIO), the world's third-largest mining firm, is another top-10 holding in EWA with an allocation of just over 3%.
Those two examples alone underscore the woes faced EWA in recent weeks. EWA tried several times this year to break through resistance at $24 and failed with the last failure coming as global investors were pulling out of the commodities trade in earnest due to fears about Chinese economic growth and Europe's sovereign debt contagion. Macroeconomic headwinds have sent EWA tumbling to the $21 area and the chart indicates there's no legitimate support for the ETF until $20.
Simply put, as long as investors remain on the sidelines regarding commodities, the path of least resistance for EWA is probably lower. Gold prices were residing at 10-month lows as recently as Wednesday, copper prices also have the ominous fate of trading at multi-month lows and Chinese and Indian coal demand has plunged. None of those factors can be considered positive for the Australian economy and EWA.
In other words, EWA may allocate a disproportionate percentage of its sector weight to bank stocks; it is not the financial services sector that drives the Australian economy. Despite its developed market status, Australia is viewed as materials play and even developed markets materials plays cannot escape the wrath of the current market environment. Just look at the iShares MSCI Canada Index Fund (NYSEARCA:EWC), which has a chart that's practically a twin to EWA's.
Bottom line: Australia is a compelling investment destination, but better prices in EWA are likely to avail themselves in the near-term. Investors would do well to remain patient regarding this particular ETF.
Disclosure: I have no positions in any stocks mentioned, and no plans to initiate any positions within the next 72 hours.