Shares of online gaming company Zynga Inc (NASDAQ:ZNGA) plunged over 13% before being halted following the opening of trading in Facebook (NASDAQ:FB). ZNGA shares then rallied before being halted again. Following the second stop in trading, ZNGA shares hit a new session low.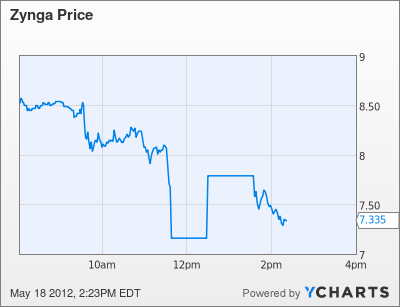 Facebook IPO Disappoints
While the Facebook IPO open was certainly a disappointment to many, the reaction in ZNGA may be overdone. ZNGA accounts for 12% of Facebook revenue, based on this, ZNGA should have a market cap of close to $10 billion. I do not believe the fact that Facebook is worth only $90-$95 billion instead of the $100+ billion that many were hoping for should impact the Facebook valuation thesis for ZNGA.
Facebook's Value Increased Significantly Prior To The IPO
It is important to remember that IPO price of $38 was at the very top of an already raised range. The initial range for the Facebook IPO was $28-$35, the range was then raised to $34-$38. In addition to raising the price, Facebook holders also decided to increase the size of the offering by 85 million shares. The change in the offering size and price does not change the value of Facebook. Rather, the change in offering and size changes who will make the most on the deal. The Facebook insiders made a greater percentage of the profits than IPO buyers. While the IPO pop has not been as strong as some hoped, Facebook shares are still trading above the issue price.
Zynga Never Reflected Increased Facebook Valuation
While the valuation of Facebook increased substantially in the weeks prior to the IPO, ZNGA did not rally on this news. Rather, as shown by the chart below, ZNGA shares have been selling off coming into the Facebook IPO. This raises the question about whether it makes sense to sell ZNGA because of the disappointing Facebook IPO? Considering that ZNGA had not rallied during the weeks leading up to the Facebook IPO, I do not believe it makes sense to sell the stock because of the Facebook IPO.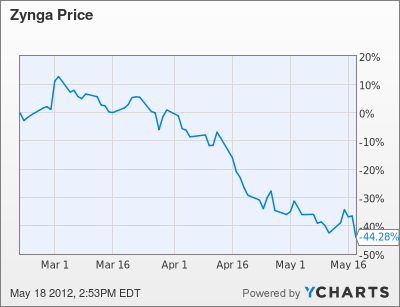 Conclusion
Even though the Facebook IPO has been disappointing so far, the price action in Facebook does not mean the ZNGA story has changed so dramatically as to warrant a major plunge in the stock.
Disclosure: I have no positions in any stocks mentioned, and no plans to initiate any positions within the next 72 hours.