By G C Mays,
Could the national advertising campaign Scotts Miracle-Gro (NYSE:SMG) said they would carry out this spring be paying dividends so soon. The company reported Q2 revenues of $1.17 billion, which was 4 percent higher than the same quarter a year ago when the company reported $1.13 billion in sales. However, fully diluted Q2 earnings of $127.2 million or $2.05 per share is 28 percent less than the $177.6 million or $2.63 per share the company earned over the same period a year ago.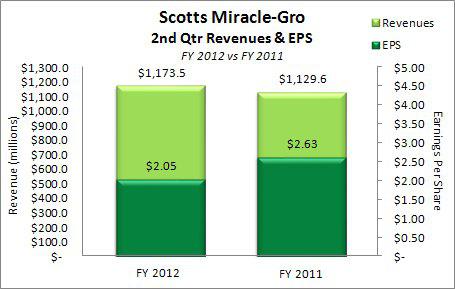 Source: The Mays Report
With year over year revenue growth of 4 percent, the first thing I wanted to understand was how earnings tumbled 28 percent. Before I get into that I think it's even more important to look at the revenue numbers a little closer.
The company has two continuing operating segments, global consumer and Scotts LawnService®. Each operating segment reported year over year revenue gains but those gains only amounted to a 3 percent increase in revenues, the extra 1 percent sales gain comes from corporate and other, which is revenue from discontinued operations related to an ongoing supply agreement with Israel Chemical LTD (NYSE:ICL), a company that Potash Corp (NYSE:POT) has a 14 percent ownership interest in. Excluding those revenues net sales are actually flat year over year through the first six months of the company's fiscal year.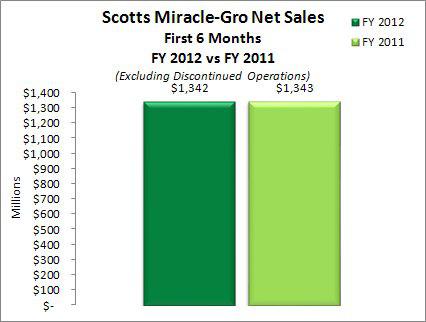 Source: The Mays Report
SG & A expenses rose 9.6 percent compared to the 2nd quarter last year and is flat for the first six months of fiscal 2012. The primary reason for the company's earnings growth not matching revenues is lower gross margins.
The company also has higher advertising costs, higher interest costs as well as ongoing impairment and restructuring charges related to managements plan to streamline operations. $20.8 million remain reserved as of March 31, 2012. The company expects to pay out significant portions of this amount during the last two quarters of the fiscal year. The company also recognized an asset impairment charge for the quarter of $5.3 million related what the company describes as, "issues with commercialization of products including the active ingredient MAT 28 for the Global consumer segment."
With Home Depot (NYSE:HD), Lowe's (NYSE:LOW), and Wal-Mart (NYSE:WMT) collectively representing roughly 61 percent of the company's sales I wanted to see what, if anything those companies had to say about their lawn and garden businesses. Home Depot has reported its Q1 results but has not filed its 10-q as of this writing. Lowe's will release their Q1 earnings on May 21. If their quarterly reports contain what I consider material information about their respective lawn and garden businesses I will write an updated report. Wal-Mart generally does not break out those numbers.
By the companies own admission, it needs its biggest customers to increase sales of Scotts Miracle-Gro products by 10 to 14 percent in the second half of the company's fiscal year to meet its revenue goal of 6 to 8 percent growth.
At a recent closing price of $44.62, the shares have fallen along with its peer group as the crises in Europe returned to full view. Despite the lower prices I see no reason to buy the shares at this level. As I've recently written, shares of the group will rise as the crises in Europe eventually gets yet another 3 month band-aid applied to its bruised economy. However, the are other stocks in the agricultural chemicals group with less company specific downside risk than this one.
When I wrote my initial analysis of the company's operations and first quarter earnings, I questioned the wisdom of such a lofty sales projection. Now that we are at the midpoint of the fiscal year I think it's increasingly likely that Scotts will miss its annual sales target again.
Disclosure: I have no positions in any stocks mentioned, and no plans to initiate any positions within the next 72 hours.