Caterpillar (NYSE:CAT) is an interesting short term play. There has been some very interesting heavy aggregate volume and according to my thesis heavy aggregate volume on a decline is bullish even if only for a short while. Caterpillar has declined 25% off of it highs in late February. Although CAT reached its high in late February, the most significant trade event happened on March 16th when a block of 1,935,464 shares traded at $113.92 at the open. I suspect that Caterpillar was extensively distributed in late February and shorted on March 16th.
I further believe the overall price objectives for the Designated Market Maker (DMM) in this issue is still lower. However, I suspect he has encountered more selling than desired as he moved toward his downside price objectives. If a DMM wishes to lower prices on light volume but incurs heavy selling at the midway point toward his downside price objectives: that condition will usually manifest itself as heavy aggregate volume. At this point he will reverse the direction in order to rally his issue to unload the newly acquired inventory. When he does this, big blocks and/or heavy volume will once again define the upper price limits of where he will once again reverse the short-term trend in order to resume the decline.
On the basis on the foregoing these are my views and observations:
The Trade:
Buy ¼ of the total capital you intend to commit to the position at $86.50. If the Trade should move against you cost average the remaining ¾ at $79.50 and stop out at $72.00. Do not post your stop loss. It is too easy for the Designated Market Maker to cash investors out by moving the price below your stop out and move the price right back up again. In addition, when a stop out is triggered it converts into a market order and that could be disastrous if the DMM decides to really take advantage. Remember the "Flash Crash"? I would be looking to exit the trade at $94.00 because there should be a host of sellers looking to get their money back at that level.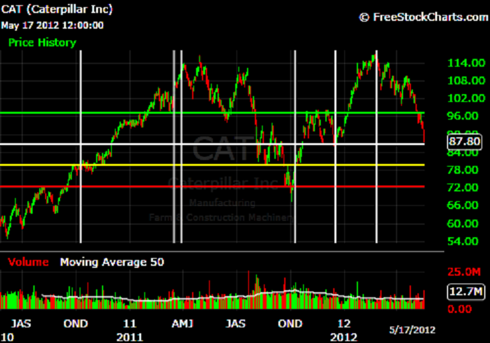 Once again, this is a trade not an investment.
Disclosure: I have no positions in any stocks mentioned, but may initiate a long position in CAT over the next 72 hours.