Consumers have been waiting for Apple Inc. (NASDAQ:AAPL) to release the iPhone in Canada, and they may get their wish at this week's Macworld conference in San Francisco, which kicks off today.
After being forced to buy the popular smartphone in the U.S. or over the internet, then have them unlocked for use at home ever since the iPhone was released on June 29, 2007, these gadget lovers may soon be able to go legit, according to RBC Capital Markets analyst Mike Abramsky. In a note to clients, he said Apple may announce more carriers in places like Canada.
And while he does not expect a 3G iPhone announcement, which he said could come this summer, he did say a 16 gigabyte iPhone is possible.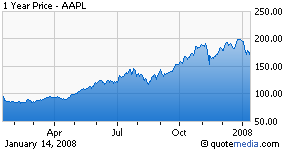 As for Apple's other businesses, he described the company's holiday sales for Mac computers as "ginormous." Store checks and data from 4,600 respondents suggest 2.5 million Macs were shipped during the holiday quarter (Q1/2008), which represents a 14% quarterly gain and 54% year-over-year.
An estimated 1.6 million latop units were shipped, up 16% quarter-over-quarter and 61% on an annual basis. iPods were strong, but appeared to be weaker than RBC's forecast of 24.4 million units, or a 140% quarterly gain, Mr. Abramsky told clients in a note.
While nothing as dramatic as the company's iPhone launch in 2007 is expected at Macworld this year, the closely-watched event is always interesting. Among the possible announcements is an ultra-thin and light 13-inch MacBook, updated wireless computing strategies, movie rentals and more DRM-free music on iTunes, and an Apple TV update, Mr. Abramsky said.
He boosted his revenue and earnings per share estimates for Apple to $32.8-billion and $5.11, respectively, for 2008. In 2009, these numbers move up to $40.6-billion and $6.23.
He continues to rate the shares at "outperform" with a $215 price target.