Amid mounting speculation that the economy is headed toward recession, IBM Corp (NYSE: IBM) bucked the downward trend by chalking up better-than-expected earnings for the fourth-quarter 2007, the company reported in a statement.
Specifically, the company's fourth-quarter earnings increased by 24 percent or by $2.80 per share. By comparison, in the same period for 2006, the earnings were $2.26 per share. For the full-year 2007, IBM reported earnings of $7.18 per share, with revenues for all of 2007 at $98.8 billion.
The company attributed its strong earnings to its performance overseas.
"The broad scope of IBM's global business, led by strong operational performance in Asia, Europe and emerging countries, drove these outstanding results," said IBM CEO/President/Chairman Samuel J Palmisano in the statement.
"IBM is well-positioned as we begin 2008 as a result of our global business reach, solid recurring revenue stream and strong financial position. We are on track to achieve our long-term earnings-per-share roadmap objective in 2010," Palmisano added.
The markets reacted positively to IBM's statement. While the stock previously closed at $97.67, it was trading at $103.31 on late Monday morning (11:35am ET).
NewsVisual decided to create an IntellectSpace Knowledge Map in order to illustrate the business connections of the company's Board of Directors as a method for assessing their knowledge of business and for determining the likelihood that the company's Management Team would benefit from the former's advice.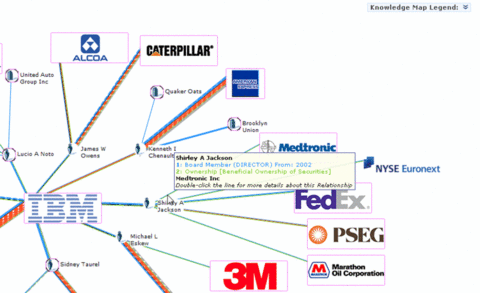 The Knowledge Map shows that four of IBM's current Directors also serve as the Chief Executive Officer and Chairman for other major corporations. They include the following: Director Kenneth I Chenault is the CEO/Chairman of the American Express Co (NYSE:AXP); Director Michael L Eskew is the CEO/Chairman of United Parcel Service Inc (NYSE:UPS); Director James W Owens is the CEO/Chairman of Caterpillar Inc (NYSE:CAT); and Director Sidney Taurel is the CEO/Chairman of Eli Lilly & Co (NYSE:LLY).
In addition, it's also noteworthy that Director Cathleen Black is also the President of Hearst Magazines and that Director Shirley Ann Jackson also serves on the Board of Directors for five other companies, including Federal Express Corp (NYSE:FDX), Marathon Oil Corp (NYSE:MRO), and Medtronic Inc (NYSE:MDT).
(Note: the information contained and presented in Knowledge Maps is public information from the Securities and Exchange Commission of the United States of America).