This past week I have continued to ponder my friend Lakshman Achuthan's renewed recession call where he stated:
For the past three months, year-over-year real personal income growth has stayed lower than it was at the start of each of the last ten recessions.
Lakshman cannot explain the real elements from his economic forecasting tools as they are proprietary - and must provide examples from data sets which are in the public sector. Every recession is different, and likely ECRI is seeing weakness across a wide range of their proprietary indicators.
Yet, the problem in using personal income to explain a recession is coming is that there have been several false warnings where a recession did not occur.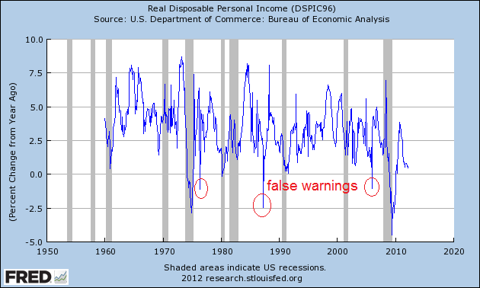 In any event, personal income is not a reliable tool by itself to warn a recession is imminent. Earlier this month, one of my favorite forecasting tools (truck transport employment) also showed weakness - but remained far away from the 6 month warning it has provided for recent recessions. I use the zero growth year-over-year for a recession warning.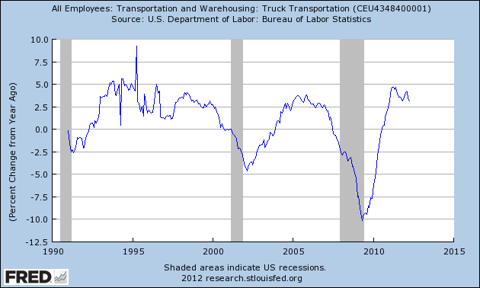 Using truck transport employment data on its own to warn of a recession is not a good idea as there might be factors which affected truck transport employment disproportionate to the overall economy. And I tend to distrust data before 2000, as the economic dynamics have changed.
It is hard to identify economic sectors gaining traction (improvement in the rate of growth) - and stubbornly a little voice in the back of my head keeps screaming "what does not go up goes down". I refuse to accept that a healthy economy should continue to grow a such a "moderate" (e.g. crappy, sickly, disappointing) rate if something was not fundamentally wrong.
Yet, this past week the economically intuitive manufacturing subindex of Industrial Production was released. The manufacturing component of IP is growing 5.8% year-over-year (adjusted), and represents one of the strongest segments of the economy. It has a positive growth trend line, and has rebounded from last months decline.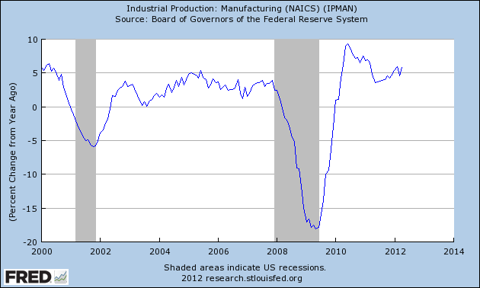 There is no certainty in economics. Statistically, certainty can only come with a significant number of economic cycles under controlled conditions. Even a hundreds cycles are not enough to conclude statistical certainty - and the dynamics and conditions relating to each recession were different.
I continue to take ECRI's recession call seriously - but I cannot provide at this time any evidence to support a recession is coming.
For my normal summary of economic releases - click here.
Disclosure: I have no positions in any stocks mentioned, and no plans to initiate any positions within the next 72 hours.